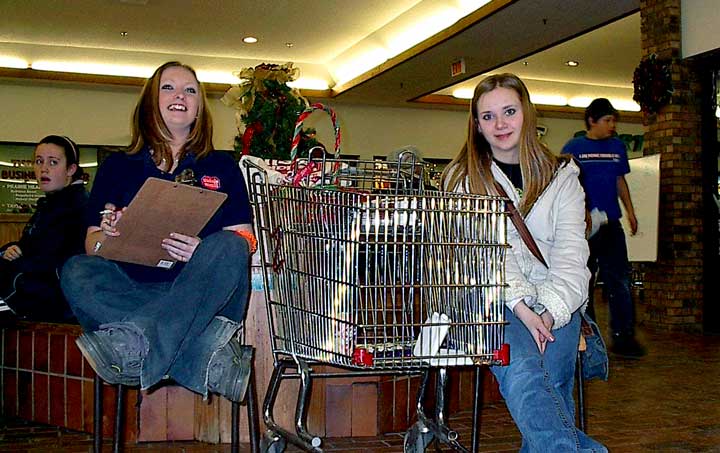 Shopping Tisdale 2003
Part II
FTLComm - Tisdale - Thursday and Friday, December 4 & 5, 2003
As I mention in Part I the afternoon pictures were lost so I set to work Saturday to do them over. After getting more than forty pictures I dashed home to download them into the computer and was able to repeat the same failure as on Thursday. It was discovered that the Compact Flash card I was using was the problem and it just needed to be reformatted. But this meant I had to shoot the same set of images three times.

On Saturday at both entrances to the Tisdale Mall there were Mall Bag Ladies, greeting customers and handing out outstanding Tisdale Mall cloth shopping bags.

The pictures below pick up were I left off with the page on Friday and you can see them all on the compiled "Shopping Tisdale 2003" Page.
---
Return to Ensign - Return to Saskatchewan News
This page is a story posted on Ensign and/or Saskatchewan News, both of which are daily web sites offering a variety of material from scenic images, political commentary, information and news. These publications are the work of Faster Than Light Communications . If you would like to comment on this story or you wish to contact the editor of these sites please send us email.
Editor : Timothy W. Shire
Faster Than Light Communication
Box 1776, Tisdale, Saskatchewan, Canada, S0E 1T0
306 873 2004