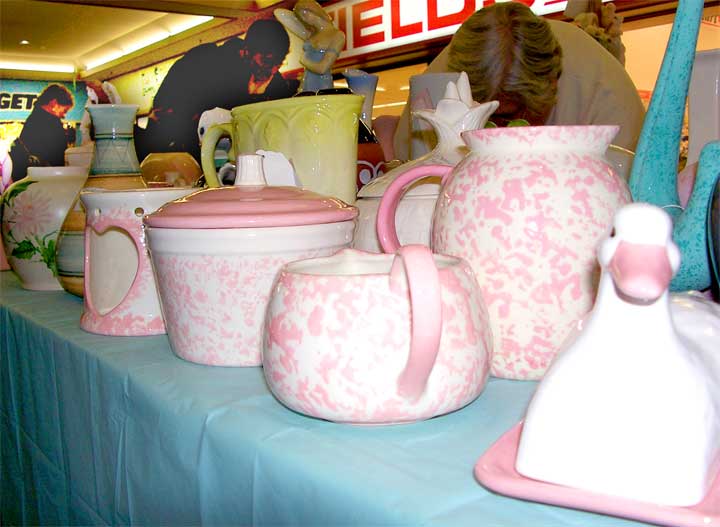 Midnight Madness: Tisdale Mall Craft Sale
FTLComm - Tisdae - Friday, November 24, 2006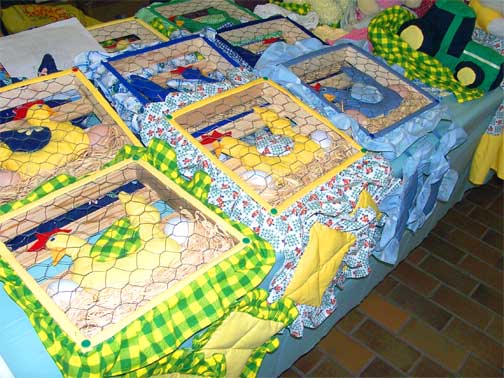 Each year there seems to be more surprises in store for shoppers as we discover yet another odd ball craft. This display of chickens and eggs really is impressive, I didn't even ask as to what they were used for as I thought finding out the answer would take the fun out of the speculation.
The ceramics display (above) had a lot of really interesting stuff and was at the west end of the mall and where I began my tour of this year's Midnight Madness, Tisdale Mall Craft sale.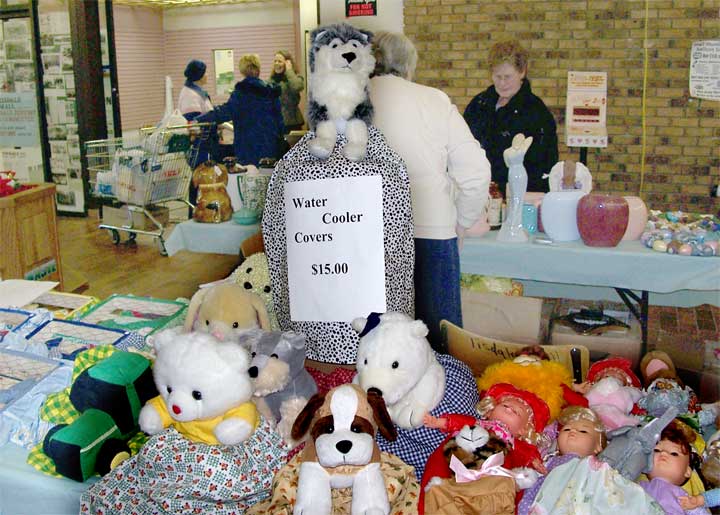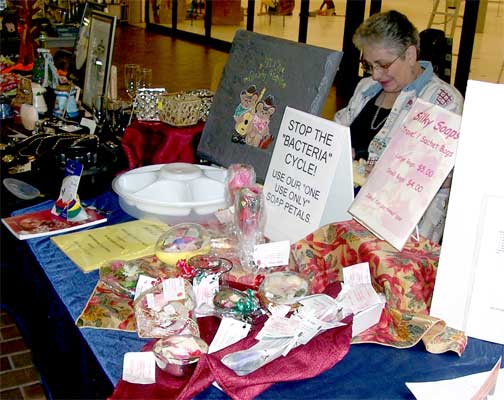 Some of the favourites that have been at craft shows for the past ten years were missing this year while others I have not seen have taken their place.
There were only a couple businesses taking part in this year's show. A particular popular one was a demonstration of massage machines. I did not want to intrude on the large group of folks who had gathered around the display so I have no picture to show you.
Another display I did not photograph was that of home made greeting cards. There were outstanding but a single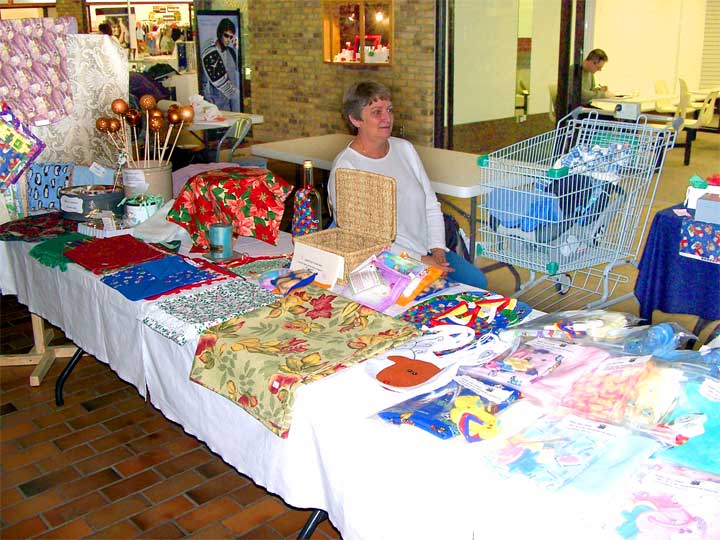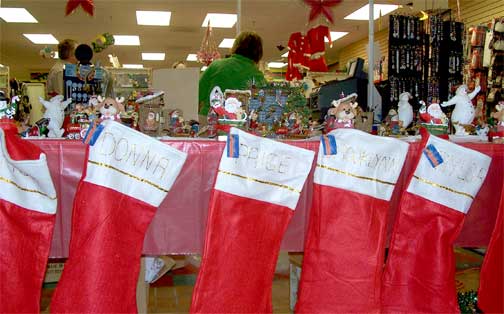 picture of the huge number of unique cards would not have done justice to the hard work and creativity of the those who no doubt worked so hard to make them and then display them for sale.
There was only one furniture maker showing off and selling his work this year and the work (below) is just simply magnificient. This picture does not do the display justice because the tables and the chairs on the other side of the display are just outstanding work and you really have to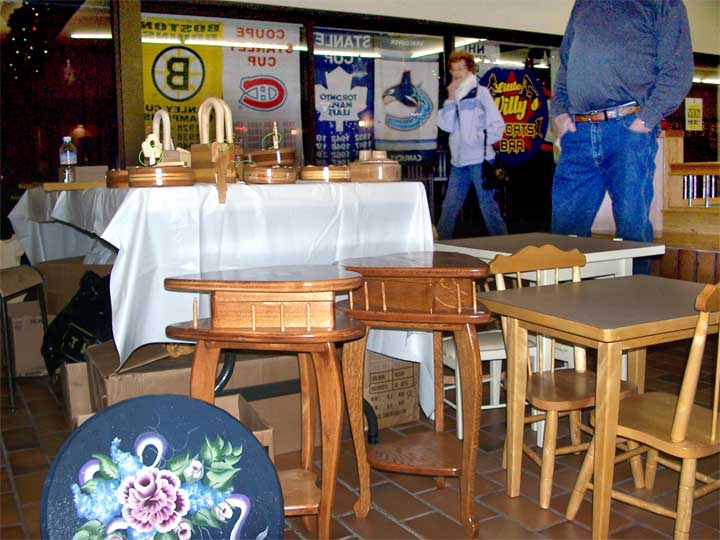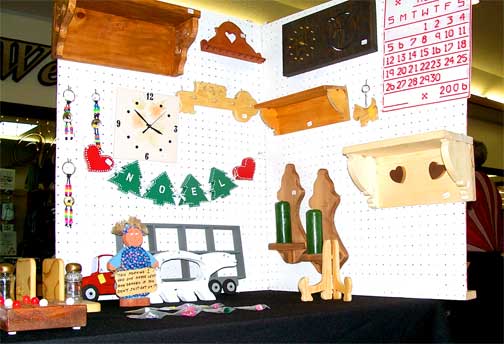 see and feel them to get an appreciation of the work.
There were several displays like this one but most on flat tables show I have just given you a look at one the displayed nicely and could be photographed.
Several amazing tables of baked goods were part of this year's sale but this one easily was the biggest and most extensive at the sale.
The sale continues through until midnight tonight and again tomorrow all day.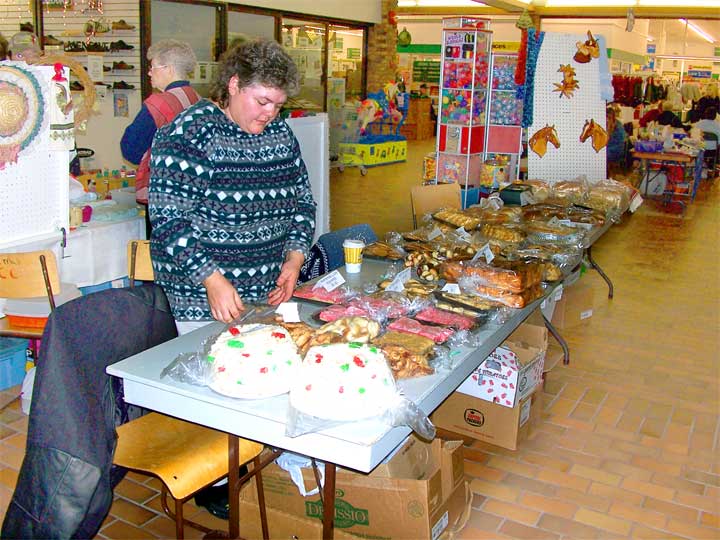 ---
Return to Ensign
This page is a story posted on Ensign and/or Saskatchewan News, both of which are daily web sites offering a variety of material from scenic images, political commentary, information and news. These publications are the work of Faster Than Light Communications . If you would like to comment on this story or you wish to contact the editor of these sites please send us email.
Editor : Timothy W. Shire
Faster Than Light Communication
Box 1776, Tisdale, Saskatchewan, Canada, S0E 1T0
306 873 2004