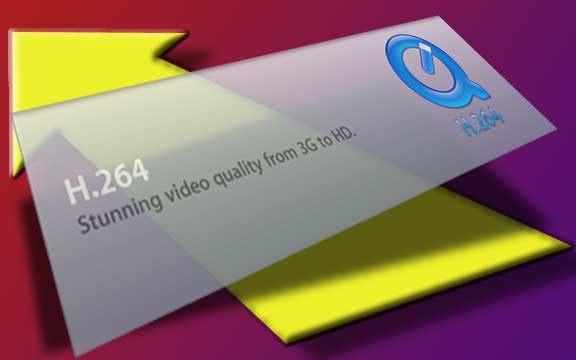 H.264 and QuickTime 7
FTLComm - Tisdale - Tuesday September 20, 2005
It was back on May 14 of this year that I reported that television on the Internet is a reality. We have streaming video over the Internet on this web site almost from the very beginning but up until May it was really just a hint of what was to come. We had to keep the image small and compress it severely to get things small enough so that they would transmit over the web in a reasonable downloadable time. When Apple Computers released Tiger this spring (System 10.4) with it they released a new standard for QuickTime and for video on the Macintosh platform.
QuickTime 7 was just the shell for the underlying change in the way the electronic media would deal with video and what was pushing this development was the advent and acceptance of high definition television. High definition television is no longer something engineers and TV salesmen talk about it is now moving onto cable, satellite dishes and in your new TV.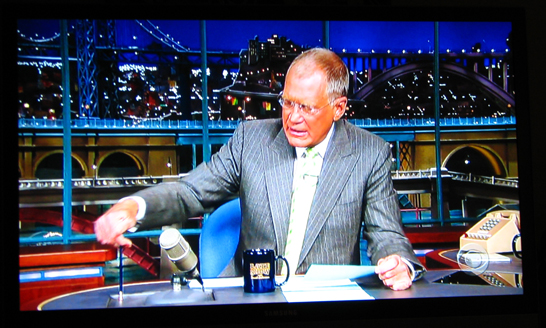 My friend Mike Townsend sent me the image above and below is his explanation:
I just had to send you the picture above. I recently got a Shaw High Definition terminal and I took this picture of Dave the other night.

High Definition is just incredible! Full 50" wide and it is like looking in a window instead of at a TV screen.

All the CBS stuff, all the CSI's especially, are great on High Definition. Watching the US Open Tennis on High Def. was better than being there, I kid you not.

I currently only get four HD channels, FOX, CBS, Movie Central, and Rogers SportsNet, but should be getting six more by Christmas.

The HD movies on Movie Central show better than through the DVD player. I am now running the signal from the High Definition terminal to the TV with a DVI connection making all the channels very, very sharp indeed.
The whole video industry has recognised he need to change and for once in a long time have taken the dramatic step of settling on a standard well in advance. That standard for digital television was to adopt Apple's H.264 codec and from now on when George Lucas shows a movie using high definition television cameras he and everyone else will be using H.264.
Apple put this standard right at the core of their new operating system and of course put it into QuickTime 7. All Macintosh users even those who do not use Tiger have adopted QuickTime 7 as it was an immediate upgrade this spring and is vital to developments like iTunes, iChat and the iPod. Late last week after a period of serious testing with a beta version QuickTime 7 for Windows became available for downloading so it is time that we made the switch on this web site to the new standard.
If you have not upgraded it is a free download and painless to intall just go to the QuickTime site and download. One of the most immediate benefitis is being able to see full size high quality movie trailers that can stream into your computer as fast as you watch them and the reason for this capability is that H.264 codec.
The whole motion picture and broadcasting environment has adopted this standard and it is now the basis for HD cameras and editing software. For more details on this remarkable development you might want to go to the H.264 web page and see what it has to say about the technology.
Return to Ensign - Return to Saskatchewan News
This page is a story posted on Ensign and/or Saskatchewan News, both of which are daily web sites offering a variety of material from scenic images, political commentary, information and news. These publications are the work of Faster Than Light Communications . If you would like to comment on this story or you wish to contact the editor of these sites please send us email.
Editor : Timothy W. Shire
Faster Than Light Communication
Box 1776, Tisdale, Saskatchewan, Canada, S0E 1T0
306 873 2004