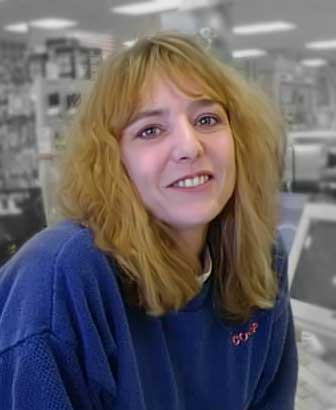 Christine Randall handles the pricing in the computerised cash register system at the Beeland Co-op Home Centre. She looks after the information as products are received and keeps the system running.

During the Christmas rush as well as keeping the data flow moving along nicely Christine did double duty helping customers find the products they needed and assisting the check out clerks.

Christine's assistance to customers while making sure things were running smoothly earned her the recognition of Beeland management and she has been singled out as the Co-op's December Employee of the Month.

Increasingly, retailers are becoming dependent upon the technical skill of their staff to function as viable businesses. The size of inventory, the low margins on retail products and the need to keep overhead to a minimum has made it necessary for ever retail business to rely on technology to maintain inventory, regulate pricing and in general allow the business to function profittably.

Christine's role is a complex one and you will find that in each large retailer in Tisdale technicians like Christine are at the heart of each business and it is their expertise and on-going growth in their work that allows local businesses to be competitive in this modern market-place dominated by giant retail chains.