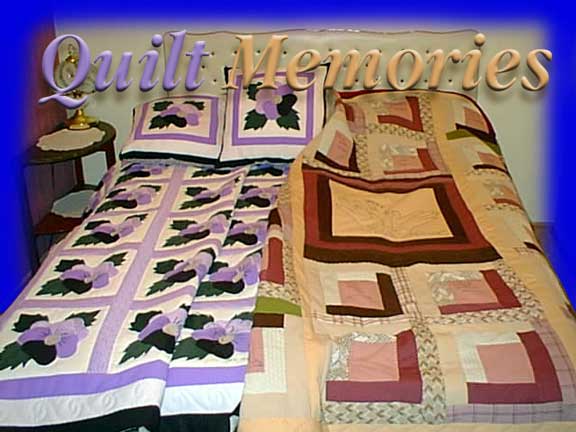 FTLComm - Weekes - April 30, 2000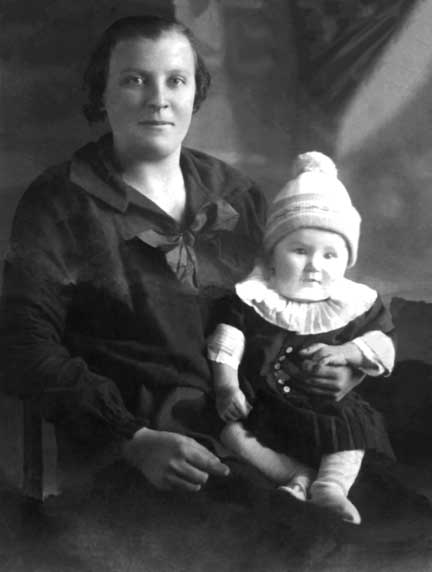 Pauline remembers well the relative comfort and refined setting of her uncles home in Czechoslovakia and the trip with her mother from the old country to join her father in the Weekes area in the wilds of North Eastern Saskatchewan. Mrs. Machola lived out her life after the death of her husband in Weekes until she entred the nursing home in Porcupine Plain and died almost two years ago.

The little girl on the right is Pauline Lindenback who lives with her retired husband Phillip on their family farm North East of Weekes. An industrious gardener and gifted craft maker Pauline's creative talents extend to a wide range of things but this past winter she has focused her energy on commemorating the life of her mother. Having considered how best to do this she decided that producing quilts for her three children's families made from her mother's clothes would be a suitable memorial.

She carefully chose clothes that her mother really liked or were worn at important events in the family's life together like weddings. Matching up the cloth into colours that worked together she began assembling a quilt that in turn lead to another each with a specific colour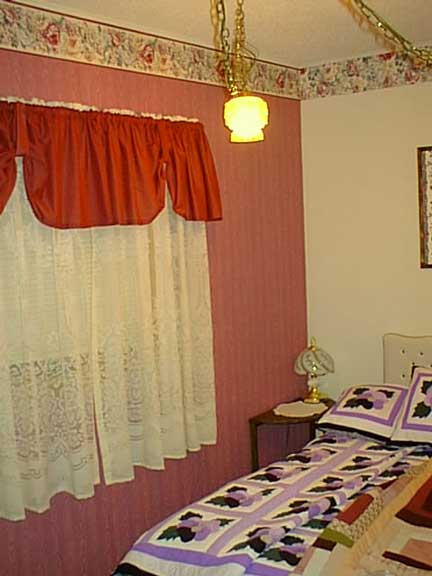 theme and each representing
a part in her mother's life.

She explained us the importance of the work and how it brought her in touch with her own feelings and established a permanent connection with her mother's life and passing. The cloth from her clothes seemed to hold and represent by association things about her mother and the symbolic nature of a quilt makes the care and nurturing of a mother seem even more a continuing thing when it is the protecting warming bed clothes that can cover a person's bed.

The two marvellous quilts completed are seen here in a guest bedroom laid out on the bed. The violet toned one with parts of a dress worn to Mrs. Machola's first granddaughter's wedding the first wedding of her grandchildren with the pedals of the flowers made from her favourite dark slacks.

The browns and tans of the other lent themselves to providing panels to commemorate the various members of Mrs. Machola's family. The quilt brings together the essence of a family with each of their names and relationships. Below right, you can see the details on this quilt and the notes and images that bring the quilt and its meaning together.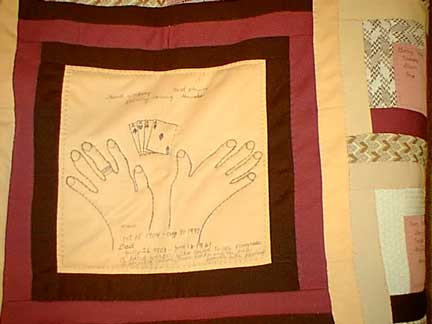 Quilts have been used
extensively in this way for generations and provide a link with what was and what is that no other thing seems to be able to do. Pauline's gift of making quilts is remarkable and though these works of art were intended to be used they are also truly important products.

The patterns and colour themes she uses in creating her quilts can be seen in the luxurious one on the bed below. The unusual combination of colours works perfectly for the bedroom and setting so that the bed stands out in contrast to the vibrant colours of the room's decoration.

As we talked about the process of creating quilts Pauline brought out one she had created to commemorate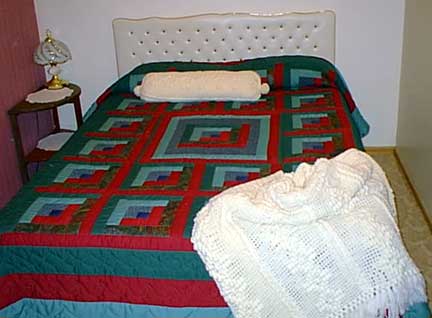 the history of Saskatchewan
and its early pioneer days which she had indeed experienced first hand.

This pioneer quilt is essential a canvas on which she had painted a series of scenes and elements that combined to establish the people and their heritage who now call Saskatchewan their home.

Using blue and white to set off the sketches of pioneer life this quilt is destine to become a wall hanging some day.

But Pauline Lindenback is busy right now making flowers for an upcoming mother's day tea and in-between that work and caring for this year's crop of chickens, she is assembling a series of magnificent crocheted afghans far more elaborate then the lovely one shown here on the corner of this bed, which is itself, an intricate work of art.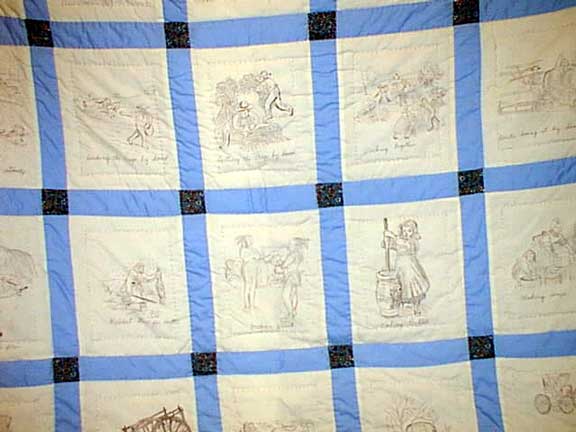 Click "Here" to go to Ensign Front page
If you accessed this page directly from an alien search engine you can see North Central Internet News by clicking here.
Ensign, North Central Internet News, published daily by Faster Than Light Communications, FTLComm