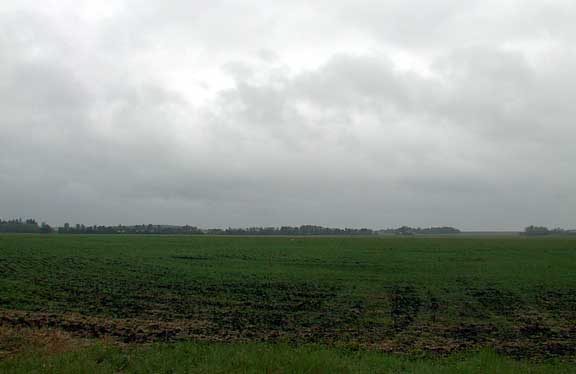 Rain And Sighs
FTLComm - Tisdale - June 1, 2001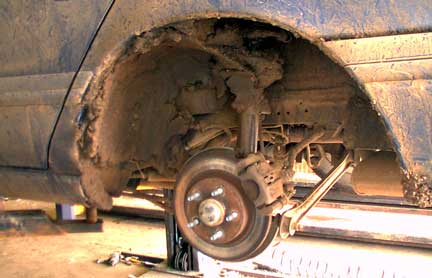 Thursday afternoon was wet there had been periodic light rain in the morning but in the afternoon it was almost continuous though not heavy.

To get a look at how it was going at 5:00 I went out to see things and took a look at thefield we had seen (above) being planted this spring. It is actually looking pretty good and seems very even in its germination.

I then went North of town and could see from a distance that the old Mitchell barn (below) which dates back to 1903 or 1905 has not been able to handle the winds of 2001. I drove across the service road to get a closer
look and discovered that the car was pulling pretty hard one way. When I got to the yard by the barn and on the grass I discovered that the road surface was now in the wheel wells of the car and the right rear wheel was not a skid, unable to turn. Using the traction on the grass I backed up several times to free the tire and then carefully followed my own path back to safety. Tisdale's gumbo is an extremely efficient adhesive, it is a wonder that someone had not built a brick factory here at some point in the past.

As you can see the barn in the picture below has separated into two parts and is crumbling, this is surprising as it was standing up nicely in the fall when I first photographed it.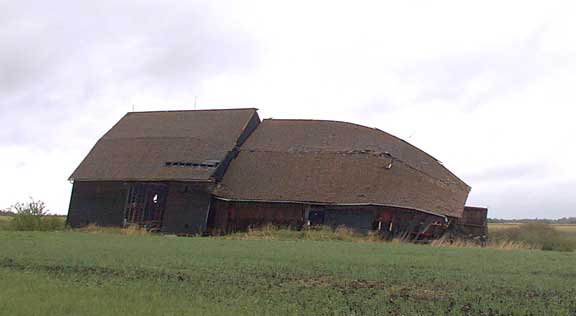 Meanwhile back in Tisdale this morning there was cheer in the air as the streets were full of traffic and the business humming. The line up in the Royal bank at 10:15 stretched from the door to the three tellers at work. The scene was even more crowded at Zeorb's Bakery where I lined up just inside the door for my daily fix of a BeeSting. While standing in line one lady came in saw the line up and decided she would come back later.

The rain has picked up people's spirits with rain last weekend, then yesterday and more expected on Sunday there is optimism Though we hear that the ranchers are still worried about their pastures, the grain farmers can see these minor rains as very positive. There is some disagreement about the volume, my rain gauge here in town only showed 1/10th of an inch in yesterdays rainfall yet many people estimated half an inch. The lack of significant puddles suggests that optimism rather than measurement plays a big part in perception.