Bleak Fields
FTLComm - Tisdale - Friday, August 2, 2002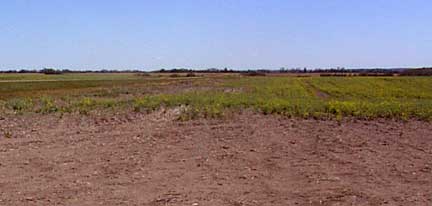 We reported on July 22, that field workers with Tisdale Alfalfa Dehydration noticed that the poorest crop conditions were in the Ridgedale / Zenon Park area. This morning on a drive up highway #35 those reports seemed to be confirmed by these images. Here are two different Canola fields and they are really tough.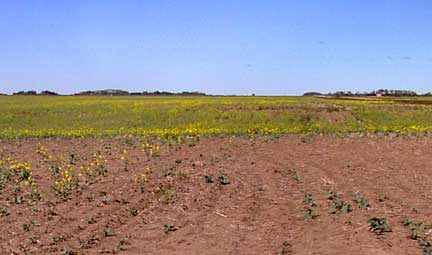 Bald patches from spring wind and poor germination make this field extremely uneven and though there are places with a short crop over all the yield will be less than the input costs.

One authority reported that he expects yields to in the general Nipawin to Tisdale area to be about 20% below an average crop. This excludes last year and the three previous years when we had abnormal crops.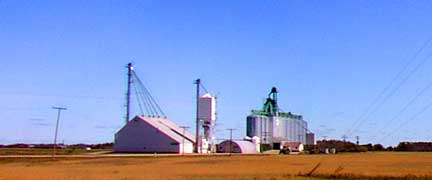 But one of the most distressing images was this valley pasture which is normally lush at this time of the year you can see that this field is over grazed with the vegitation being removed to and including the roots.

Cargill's facility at Armley has a wheat crop on its South side. The crop is about eight to twelve inches tall headed out and almost ready to harvest but it is so thin and the heads so small it is doubtful if this crop is worth the fuel to run a combine.

One day in late spring I took a picture of an injured snow goose living on the pond below. This morning as you can see the pond is now just a place for Killdeers to stroll upon as all that remains is of the pond is this pitiful little puddle. Throughout this whole region it is rare to find any open water as all sloughs dried up long ago and most dugouts are just dark holes in fields. There are four burrow pits in the first two miles of #3 highway West of Tisdale all are bone dry.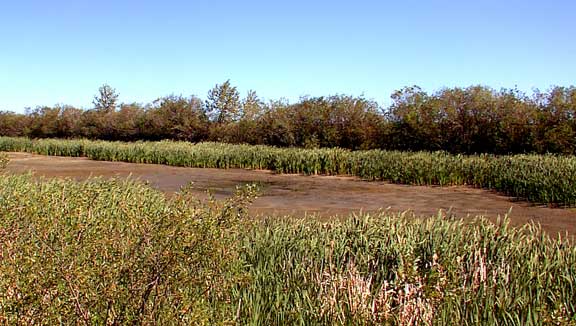 It is especially important to realise that the most remarkable situation is not the drought but that there are crops of any kind. In discussing the situation with an expert this morning he pointed out that even twenty years ago this area would simply be desert if were not for the impressive farming practices now employed by Saskatchewan farmers who will in some cases harvest a crop that will cover its costs with as little as two inches rain in the last twelve months and even more remarkable perhaps as little as six inches of rain in the last two years.

We each live extremely short lives when compared with long term weather and climatic patterns. Less than one hundred years of accurate weather data is available for North America and using various fields of science we can determine that over the very long haul there is a normal cycle of climatic change and rarely does it occur swiftly. Changes are gradual and this is so important to understand when you look at these last few years where we have seen significant low levels of percipitation. It would be unreasonable to expect this pattern to reverse quickly and we have no way of knowing if we are in its most extreme state at this time. The very best we can hope for is weather conditions next year similar to what was experienced last year which means continued drought.

On the other hand we could also experience even drier conditions as ocean currents in the Pacific are as yet undetermined and so far it looks like this is the warmest year on record for this planet as a whole.

One of the features of disrupted climatic conditions is that extremes are more apparent and this year we have seen them all with record high temperatures followed immediately by record low temperatures with fifteen record low temperatures occuring last night in Saskatchewan with frost in many areas. Our temperature did not drop below 5ºC but ice on a windshield in Craven, frozen bird baths at Wilke all tell of a remarkable summer.