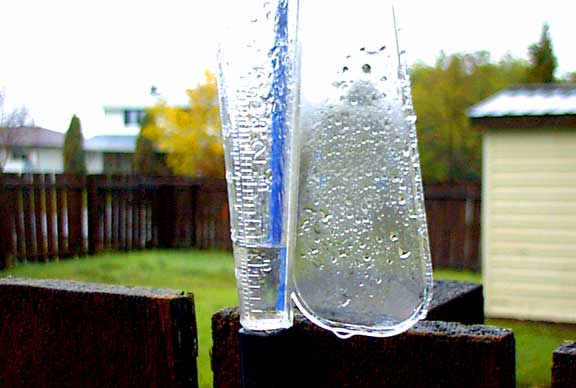 It rained all night
FTLComm - Tisdale - Monday, September 30, 2002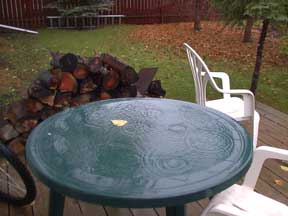 The rain gauge shows just under seven tenths of an inch of rain while a couple of blocks North and away from trees another read just over eight tenths. Beginning around eight last night and continuing through til lunch time the Tisdale, Melfort and Nipawin area has been been dampened and the forcasts are for more rain today, perhaps even snow should the North wind push the temperature below the present four degrees.

On Sunday morning our potatoes were dug up from the garden and it was surprising to note that the ground was dust dry. Yesterday as we went up to Prince Albert we noticed the road side dug outs were almost all dry including the large wet land area West of Kinistino leading us to wonder what the cattle in the area were drinking. This dug out (below) is just a mile West of town and though it was dry yesterday, this morning when this picture was taken the night's rain had produced a puddle.

Between Tisdale and Melfort perhaps as little as 30% of the crop is still in the field while between Melfort and Birch Hills it appears that about 50% is still laying out there, mostly swathed waiting to be combined. Perhaps the most startling sight was a pair of fields on each side of the highway just this side of Birch Hills with Canola crops swaths with flowers in the swaths.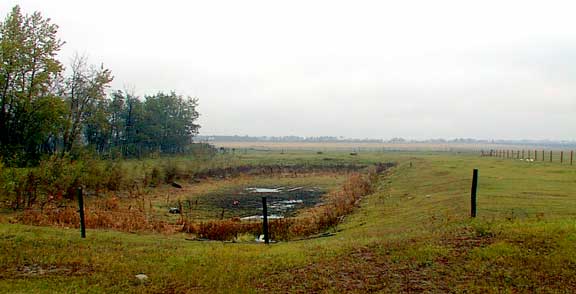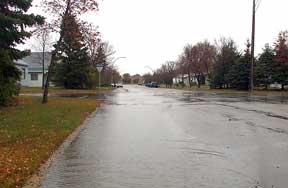 The rain is of course good to see simply because the water table has all but vanished. In town there were work crews out clearing leaves from the storm sewer drains as they were preventing the water from leaving the streets.

The on again off again crop year of 2002 is now off again. In our last crop report we showed you remarkable "second crop" conditions where the parched first crop was almost completely empty and the mid summer rains had produced germination and a second crop had emerged. With nothing to waste many farmers left those fields to see if they could get some thing from them. Now with time running out farmers have been trying to harvest this very late crop hoping to salvage something from this year's growing season.

In an interview with a Zenon Park farmer today he explained how depressing it was. He harvested some of the first crop getting six bushel an acre from a field of wheat and a grand total of ninety-bushels from a sixty acre field of peas. With the prospects of a second crop he held back and at this point he has 900 acres of fields still to combine. If all goes well that would take about nine days combining but the prospects are that dry enough conditions will offer him only three days or so and he is faced with leaving a good portion of the 2002 crop in the fields until spring.

The farmer said that many of his neighbours actually began their harvesting after him but they had poorer crops and had decided to turn their producting into field and had cut the fields for dehydration at the Arborfield plant or had baled the fields for green feed.

Many Tisdale area farmers have also followed this route and their crop this year is or has been turned into dehydrated feed.

But throughout this entire area of the province there are more black worked up fields than anyone has seen in years as farmers have simply plowed under the mess in preparation for next year. Many fields are now green with winter wheat.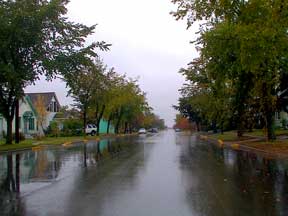 East in the Weekes area most of this year's harvest is all but finished one farm with 3,500 acres planted has six hundred left. In their area the yields are enough to cover the costs of this year's work which is simply not the case for the majority of farm operations from Porcupine Plain West.

The costs of this year's crop is much the same as others and farmers are sadly unable to find a source of income to pay for the bills. Where this rain should be a cause for cheer it dashes the last hopes of salvaging some income from a year that had started badly, suffered the worse drought ever for the area and then revived only now to be left in the fields unable to be harvested.
---
Return to Ensign - Return to Saskatchewan News
This page is a story posted on Ensign and/or Saskatchewan News, both of which are daily web sites offering a variety of material from scenic images, political commentary, information and news. These publications are the work of Faster Than Light Communications . If you would like to comment on this story or you wish to contact the editor of these sites please send us email.
Editor : Timothy W. Shire
Faster Than Light Communication
Box 1776, Tisdale, Saskatchewan, Canada, S0E 1T0
306 873 2004