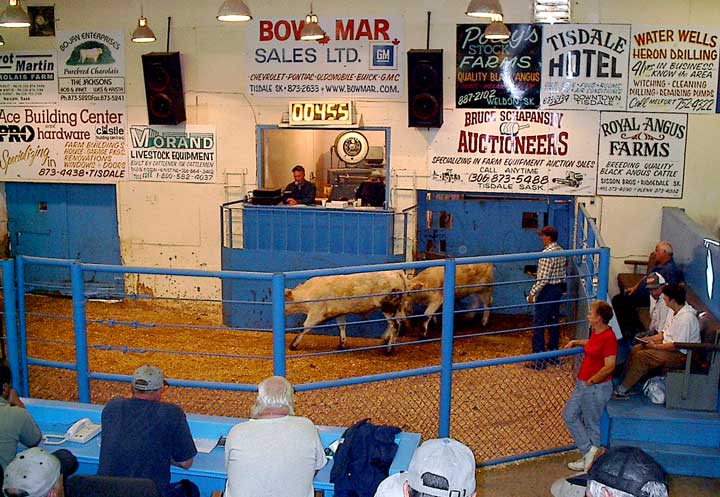 Cattle auction today, first since mid May
FTLComm - Tisdale - Monday, September 8, 2003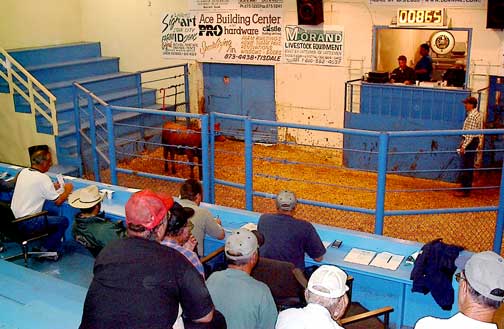 With the combines out in the hot fields this morning, the first cattle auction since the discovery of a case of BSE (Bovine Spongiform Encephalopathy) in Alberta in May took place this morning at the Tisdale Heartland Auction Centre. As everyone in North America knows the cattle industry in Canada has been frozen in time as sales were not held and cattle that would normally have gone to market were retained. In August, the United States with its beef prices hitting a historical all time high, announced it would reopen its border to specific beef cuts from packing plants on a permit basis.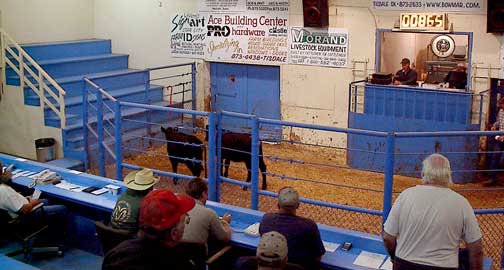 Though hardly a resumption of business as usual the partial opening of the border to even a small amount of young beef is providing some hope for Canada's beef producers and all the rest of the industry that grows feed for cattle and processes the product. The loses to the Canadian economic are far harder to calculate than other industrial or even natural disasters simply because the cattle industry is an interwoven part of the fabric of agriculture in general.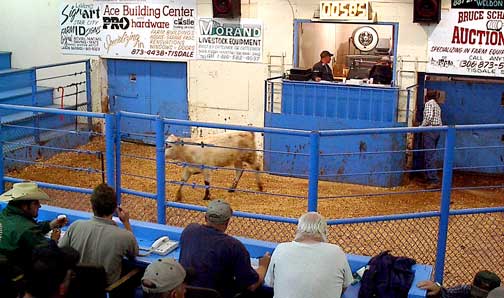 Though there was a small turn out at today's sale the prices were promising. During my minutes in the stands the low was $1.15 a pound and the high was $1.55. Sales are scheduled for each Monday from now on beginning at 9:00 each morning.

All of the animals were this year's caves headed for feedlots to meet the specific demand of young animals to be slaughtered in Canada and processed for the permits now set out in United States regulations. Most authorities on the subject do not expect the export of live animals to the United States to occur before this time next year.

In the mean time US demand for beef remains constant and their supply short the usual imports from Canada and the price of the product is making chicken look pretty good. The American beef industry could have pushed themselves to close to the brink because the consumer can simply find other less expensive protein and it can take years to recover a lost over priced market.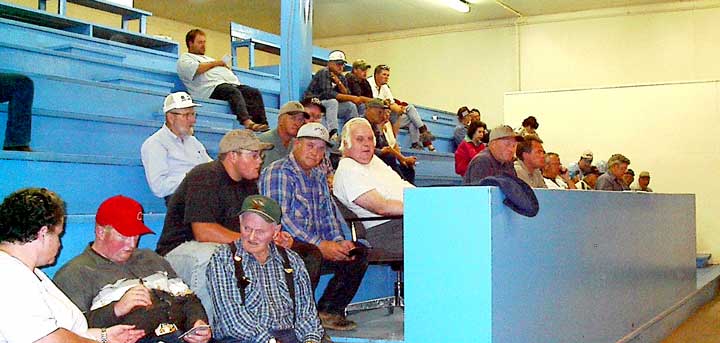 ---
Return to Ensign - Return to Saskatchewan News
This page is a story posted on Ensign and/or Saskatchewan News, both of which are daily web sites offering a variety of material from scenic images, political commentary, information and news. These publications are the work of Faster Than Light Communications . If you would like to comment on this story or you wish to contact the editor of these sites please send us email.
Editor : Timothy W. Shire
Faster Than Light Communication
Box 1776, Tisdale, Saskatchewan, Canada, S0E 1T0
306 873 2004