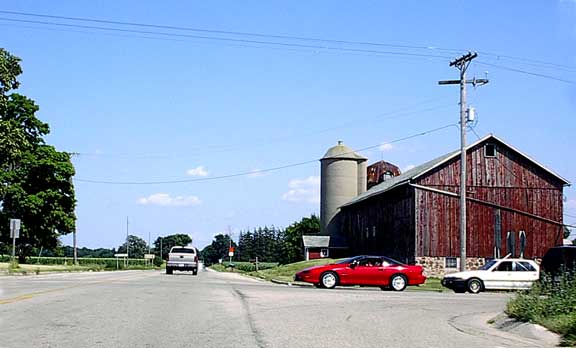 Paul McCarthy
FTLComm - Ormo Wisconsin - Monday, August 18, 2003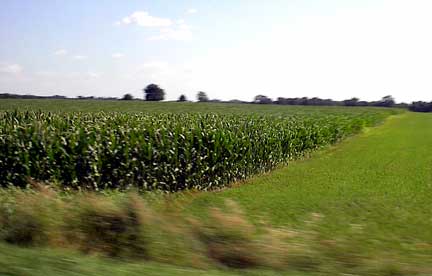 The news people focus on industrial output and other technologies but the real heart of any nation, or community for that matter, is agriculture. As we drove across Wisconsin it was clear that the economy of this part of America is resting firmly on an agricultural basis. This is a place where corn and cows matter.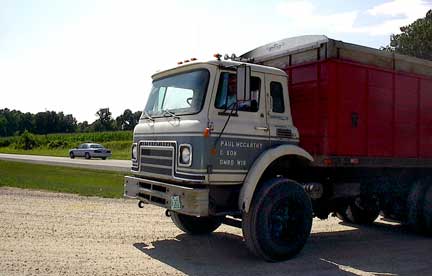 As we drove through corn field after corn field and noticed the close proximity of one farm to another we could see that this is far different agriculture than what we have in Saskatchewan. Though not intensive agriculture it is certainly scaled down extensive agriculture.

The temperature was 34ºC and the gas in the van's tank reached a temperature that resulted in a shut down. (Vapour in the in-tank fuel pump) We rolled off the road into a driveway beside this field in the progress of being combined. Then Paul McCarthy in his "cornbinder" grain truck pulled in behind us.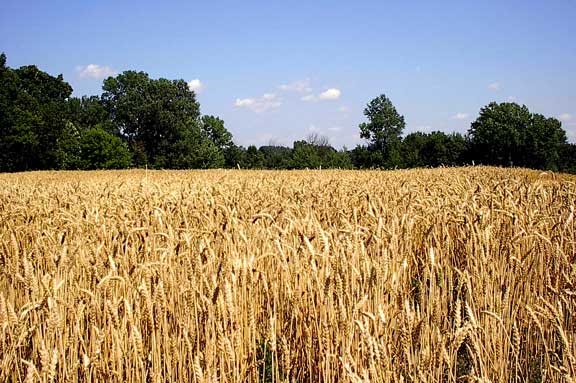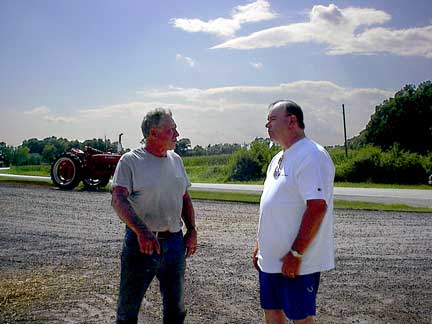 Paul has farmed all of his life since he came out of high school and as we waited for the van to cool down we had a chance to find out about farming in Wisconsin. The first thing to be learned is that farming is farming is farming. Be it in Tisdale or Ormo the problems are the same. In Paul's case, the list is almost exactly the same and in the same order of concern as anyone in Zenon Park or Weekes.
Two solid weeks of hot dry weather and things are looking tough.

He has a good crop of soft spring wheat, this variety is used for making pastry flour and he will load up his truck and haul it directly to sell it in Oshkosh and will get $3.95 a bushel for the stuff. Seems like a good price until you consider what it cost Paul to grow a crop in Wisconsin.

He grows a lot of corn but even with the subsidy he gets from the government he needs a huge return. Monsanto is his problem. "Round up ready" GM corn is pretty much what he has to plant because there is no way of preventing your crop from having "Monsanto's" GM plants in your field so he bites the bullet and buys the seed from them. Then there are the chemicals and his output costs to grow an acre of the stuff pretty much matches what he gets for it, breaking even is all he can hope for.

The Monsanto problem is the same with soye beans, they also are "round up ready." Paul has the same enthusiasm for Monsanto as farmers in Saskatchewan.

Big money agriculture. Paul shook his head as he described the neighbouring farm to him. 3,000 cattle under one massive roof and Mexican labourers to milk them.
Though the sign on Paul's truck says "Paul McCarthy and Sons" it seems the boys have decided that farming is not for them as at least one of his boys is a pilot working on the West Coast.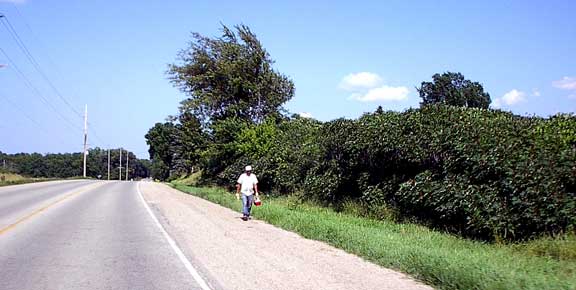 ---
Return to Ensign - Return to Saskatchewan News
This page is a story posted on Ensign and/or Saskatchewan News, both of which are daily web sites offering a variety of material from scenic images, political commentary, information and news. These publications are the work of Faster Than Light Communications . If you would like to comment on this story or you wish to contact the editor of these sites please send us email.
Editor : Timothy W. Shire
Faster Than Light Communication
Box 1776, Tisdale, Saskatchewan, Canada, S0E 1T0
306 873 2004