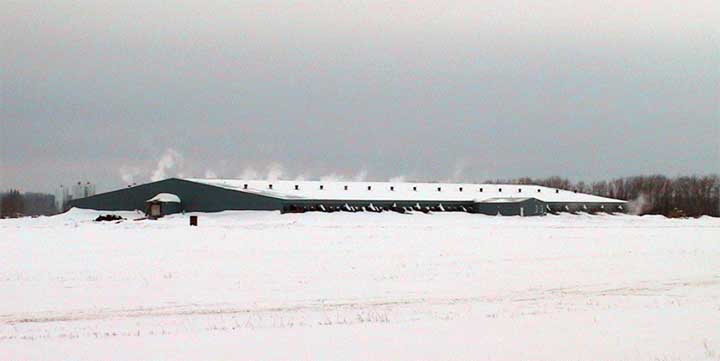 AgraTime
FTLComm - Tisdale - Friday, February 27, 2004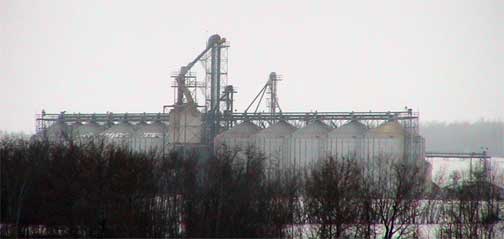 As I sat enjoying my second cup of coffee at breakfast Thursday morning I realised that I was witnessing a steady parade of farm grain trucks on the way to or from one of the five inland terminals that are situated here at Tisdale.

I asked a Weekes farmer about the amount of grain they still had in the bin and he said they still had more than 60% of last year's crop and the yields in the Weekes area were substantially higher than other parts of the province. Between Tisdale and Weekes you can see farm yard after farm yard with tarpaulin covered grain cones in their yards.

At each of the inland terminals long lines of grain cars are parked awaiting loading as the process of handling the past year's crop is well underway.

The grain prices are not living up to the expectations of many as wheat futures are in the $133 per tonne range with barley even slightly ahead. Canola has been edging upward over the winter and going now in that eight and half dollar range per bushel. It is a good chance that 2004 will see a larger Canola crop planted than last year.

The BSE crisis has really hit the whole agricultural business, not just the cattle farmers but feed of all kinds is moving very slow as feed lots have not been buying and cattle farmers are making do as best they can. However, the Weekes farmer I talked to said that they had just moved two loads of feed barley to Lethbridge at over two dollars.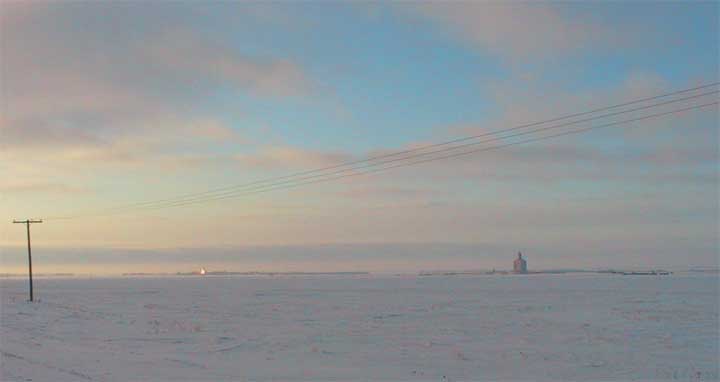 I asked him about the Canadian Wheat Board and this is a farmer who has always supported this marketing operation but he pointed out that the Wheat Board is increasingly becoming irrelevant as the market and production has changed so that only a small amount of production is Board marketed.

He explained that they recently shipped several loads of oats directly into the United States. There had been concern that this might be a difficult problem but they had the product delivered into North Dakota for shipment to the Minnesota area and it turned out to be no more complex than having "B" trains deliver to any of the Tisdale terminals.

The abandoning of the rail line to the Weekes area severe damaged their profit margin as trucking costs come off the top of the production. The high production at the two Big Sky hog plants East of Weekes has been a real bonus to the area as the farmer I interviewed said that all of their pea production was now being sold a couple miles from the farm. He said that he regrets that it has taken so long to develop this form of production.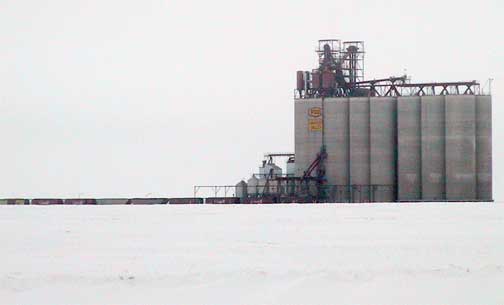 The two Weekes barns are currently running at 120% of their design employing more than forty people. This income is keeping people in the community and at the same time the ability to sell locally is really a boost to the farms in the area. He said that they have done several fields with effluent from the barns and there has been no adverse effects from this process. One of the things that is so often consider the main problem with huge hog operations is the unpleasant odour. This farm is located just a mile from the farrowing plant and three miles from the weaning barn and he said that he has yet to notice any odours that disrupt the quality of life in their area.

The two Big Sky barns are facing a bit of a problem as they do not have finishing barns yet in place in this area to handle the efficient production of their starter barns The new Bjorkdale operation will solve this problem but until it is up and running production from the Weekes barns is being moved to where ever they can be sold or finished.

I asked if the current market conditions would change what they planned on planting in 2004 and he said that because of their farm size they did not have a lot of latitude in this area and would stick to the three or four year plan that they had established and plan to continue this longer term planning simply to make their production work to their advantage and conserve the soil on their 3,200 acres of cropped land.
Return to Ensign - Return to Saskatchewan News
This page is a story posted on Ensign and/or Saskatchewan News, both of which are daily web sites offering a variety of material from scenic images, political commentary, information and news. These publications are the work of Faster Than Light Communications . If you would like to comment on this story or you wish to contact the editor of these sites please send us email.
Editor : Timothy W. Shire
Faster Than Light Communication
Box 1776, Tisdale, Saskatchewan, Canada, S0E 1T0
306 873 2004