It is hard for me to tell if conditions are appropriate for harvest work so this afternoon I drove north on #35 to Walker Seeds then east and then back down to highway 3. I was rolling along for about 40 minutes and counted ten fields yet to be combined. About five Canola in swath and the rest were cereals mostly standing though I did see one oat crop in swath.
This operation was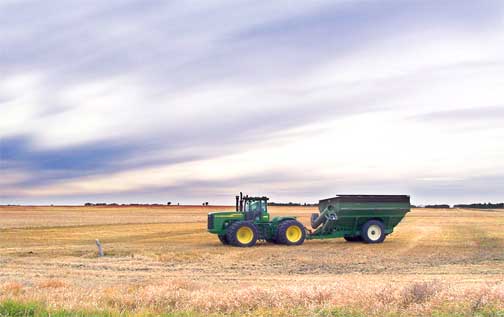 working in a standing oat crop and typical of many oat crops still undone this one is badly lodged and almost all laying flat on the ground but looking at the results after the combine it looks like they were able to pick most of the crop up.
There is a threat of showers as they has been for every day for the past two weeks but in my little journey I saw five combining fields in progress.
Many fields have been worked up and I came across one farmer with a cultivator gently tiling up a field of stuble. I suspect that farmers are anticipating a fall and spring like those of the past few years and by tiling the soil just a bit after harvest should make things dry out in the spring easier to enable an early planting.
I also saw two crops of winter varieties that were up and looking pretty good and a couple of alfalfa crops that might still be bailed.
One way or another for the immediate Tisdale area this year's harvest is almost complete with as little as 15% left to be done, just a few more dry days should see the year's crop in the bin. This is not the case though for surrounding areas particularly to the east were some showers have been reported and they are less than half done in the Weekes area.