The grain that is in the bin and in the terminals will soon be on its way to market. Shipments from Tisdale's four inland terminals seems steady and both rail lines are moving those grain blocks across the prairies.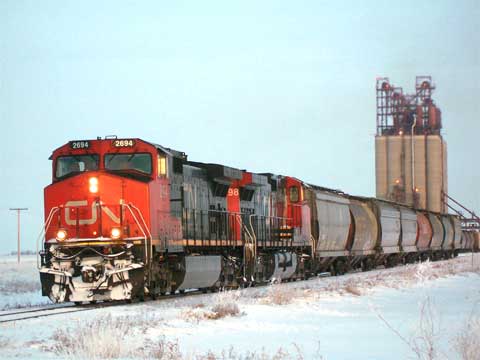 The prospects for good prices to continue are very good with some clear signs already that Canada's grain selling competitors are having some weather and production problems.
However, it is the very nature of agriculture to find gloom and doom to go with its other companions of reality, "boom and bust." This week the Canadian Wheat Board announced a new programme to deal with malting barley producers that involves an option to sell by contract or by the former single desk method. The new programme called CashPlus is outlined in their news release issued today.
Some producers consider the CashPlus programme just errosion of the Wheat Board's mandate and a move by the board to an unregulated free for all market situation. Edwin Wallace from Success made these comments to the Wheat Board about the programme today:
. . . or, placating sworn enemies of the CWB.

Winnipeg – Under a new CWB program, farmers will be offered the option of cash-price contracts for their malting barley, plus the benefits of single-desk selling through the CWB.


Shameful, Larry!

Did you hear one of your pals on CBC - "It is a step in the right direction but it doesn't go far enough - we want an open market."

It is past time for the board to back the single desk - completely.

You guys are going to nice us right out of business.

Yours in disgust, Edwin