We all know that everything effects everything and the sinking of the stock market has been brutal to a long list of things like savings, the auto industry, mining, the lumber industry and indeed it has slashed into the prices of Saskatchewan farms. We have to temper this with the realisation that for most of my life farming has been at best a break even thing in Saskatchewan and last years good prices were something of an exception. However, the costs to grow that crop last year have continued to rise and farms are once again looking at the standard squeeze play that afflicts the industry.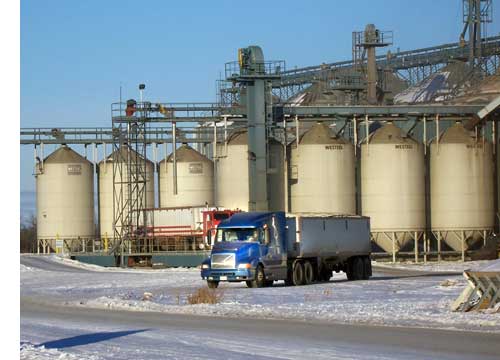 Before I mention the prices I have noticed I have to point out that I am certainly no expert and I am just going with what the information I can pick up says but I was surprised to discover that there are considerable variations in pricing between those quoted by the Province of Saskatchewan's commodity pricing page and the actually daily and contract pricing being offered by the Louis Dreyfus terminal here in Tisdale. No doubt a farmer who keeps tab on these things every day understands the differences but to me it just seemed a bit odd.
Feed wheat is listed by the provincial government page at $268.33 a tonne compared with $451.86 a year ago. That's a fall of more than 36%. Louis Dreyfus is paying only $108 a tonne today. Canola was going for $502.08 a year ago and today the Saskatchewan price is $395.07 or down 21% from last year. From what it looks like Louis Dreyfus is offering about $27 more per tonne for delivery in March. Looking over the other prices it looks like the price of the various grains is within that 36% to 21% less than last year.
When we consider this on the way it will affect farmers across the province from this point of view depending on the success of the coming year's crop, but its value will be about two thirds of what this year's crop brought in. It is hard to gauge the affects of fuel, fertilizer, transportation costs and other contingencies but nothing seems to be going down, only the price of the product.
One important part of the agricultural profit equation is the price of land. The real estate market is very soft as people have become very careful and rightly so, about making big purchases like houses and commerical property. At this time of the year there is no way of knowing if farm land is less in demand than it was and most investors are content to just go skidooing for now.