The High Cost of Efficiency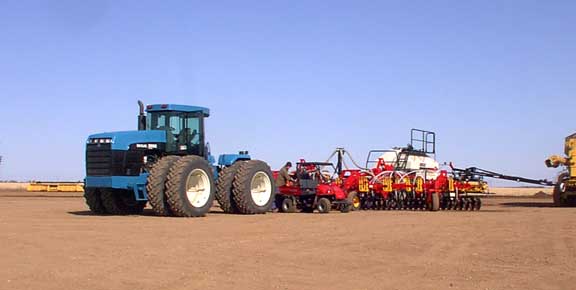 FTLComm - Tisdale - April 17, 2001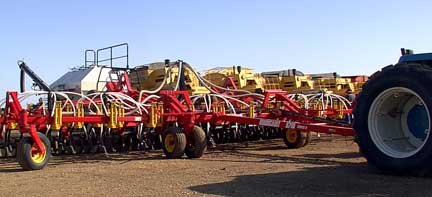 While farmers hunt through the auction sales this week looking for bargains the folks at John Bob Farm Equipment are putting this years seeding equipment together, ready to take to the fields for seeding 2001. The mystery for everyone not involved in agriculture is how can farmers who are faced with declining return on their production and rising input costs, how do they keep going. The answer is simple, efficiency.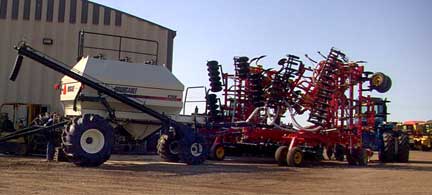 Grain farmers have rapidly accepted radical methods and turned it to their advantage. Continuous cropping, liberal use of fertilizer and chemical weed control have combined to make prairie grain farming amazingly cost efficient. But that efficiency has in itself a big price tag. The massive air seeding systems both built by St. Brieux's Bourgault or by Flexicoil can exceed a quart million dollars. All this equipment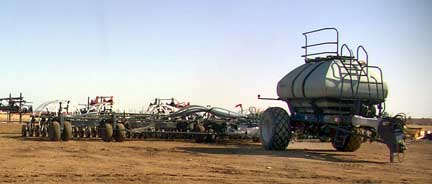 requires a quart million dollar tractor to march it around the field. Than with support equipment and a quarter million dollar harvester the bare minimum field equipment to produce efficient farming is going to exceed a million dollars. With an anticipated life of ten years that makes something like $100,000 in payments a year and $100,000 in interest let alone operating costs, payment on land either as a purchase or a lease. With these kinds of numbers it certainly makes you realise the courage and tenaciously of those who enter into this industry hoping to earn a living and provide for their families.

John McShannock, explained today that farmers have been making the transition to these air seeders over the past few years and usually do so by buying the whole system at once. He noted that the farm equipment out in the fields reaches a point that it is no longer efficient and the only thing to do with it is pull it off into the bush. The past few years have seen the removal of significant numbers of farmers from the industry and their used equipment has moved onto the market but even that equipment is now wore out or no longer viable and farmers are all on the verge of having to bite the bullet and buy or lease new equipment. Mr. McShannock said there is no way of knowing how long they can hold out but that only a modest improvement in grain prices could mean a quick movement by farmers to retool. In the mean time this year's seeding equipment is being readied.