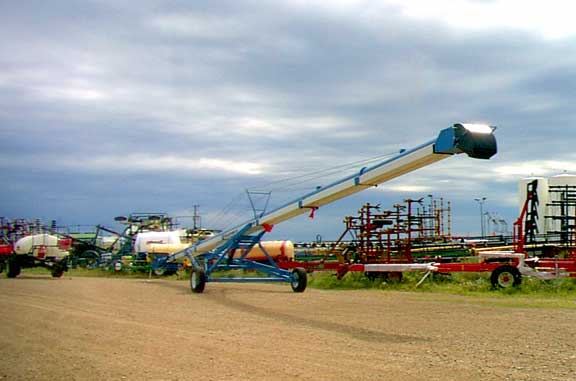 Brandt Grain Handling Equipment
FTLComm - Tisdale - Thursday, August 1, 2002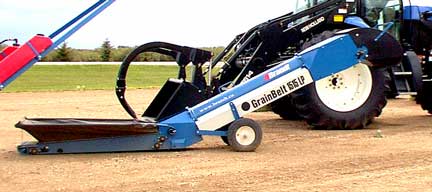 Since the 1950s farmers have moved grain from truck to bin and bin to truck using a spiral auger in a steel pipe.

Grain augers are dangerous pieces of machinery and miserable things to move around the yard without electrocuting yourself.

In recent years many farmers are using vacumn systems to move grain and with more on farm storage they have continually needed better means of being able to move the commodity around.

John Bob Farm Equipment in Tisdale handles the Regina based Brandt line of farm equipment which includes the vacumn systems but Brandt has come up with some interesting innovations.

At the top of the page is a large version of an alternative to the auger. This is a belt conveyor system which has the advantage of being a bit lighter to move around but also has a higher capacity than the convention grain auger.

This second piece of equipment is a small belt system for moving grain from a hopper truck to the auger or larger belt conveyor system.

The third innovative piece of equipment gets around moving the auger. The track system shown below is an option that can be added to Brandt augers and conveyor systems which allows the operator to drive the thing around the yard. With grain handling beind done by a variety of people this device could mean far more flexibility in who drives the truck and unloads from the combine.