"Got much Wheat?" - - - "Piles of It!"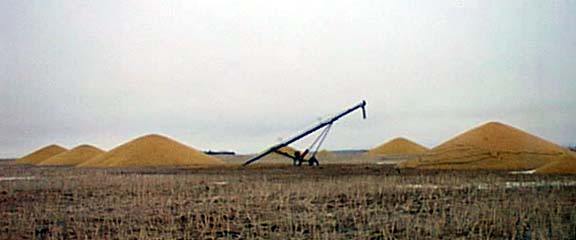 FTLComm - Zenon Park - November 18, 1999
For people in this area there is no need to point out the abundance of this past year's crop. Though right around Tisdale the crop was much better then last year's bumper crop it was even better as you go North East of town. Mr. Will told me that it was the biggest crop he had ever had in his years as a farmer and yet it will return a value equal to last year's crop even though it is one third larger. These grain stacks are in a field just South and East of Zenon Park. It is clear that some of the many piles of grain have already been removed from this area but these remain presided over by this lonely auger looking like some spindly prehistoric dinosaur.