Local Economy
Tisdale, Melfort and Nipawin depend so heavily on the agricultural economy and the signs are everywhere of what people are doing.
Nipawin's set back during the past two years continues to see things in trouble. The closing of several popular businesses has seen shoppers from the North and East drive right on by to Prince Albert.
This has not been the case in Melfort and Tisdale as both communities have seen in the past twelve months a stabilisation in retail trade. Certainly, rural customers head off to Saskatoon and Prince Albert, but many still are doing their shopping locally. Best Value is not the draw that Zellers had been, but it is recovering a portion of the retail trade that Tisdale once enjoyed. In both Melfort and Tisdale the high volume of commercial trucking is producing some spin off trade and business.
Melfort's big ticket retail sales seems to be in decline with GM and Chrysler dealerships appear to be hurting while Ford continues to grind cheerfully along. Melfort's mall seems to be doing well and in general, Melfort's retail trade is positive, perhaps even slightly above past years, despite the decline in sales of in higher priced products.

Tisdale's manufacturing sector continues to grow and expand and this has a positive effect on local retail. Northern Steel Industries, Nuform Packaging are not the only two bright lights in Tisdale as other companies are also doing well but not with local sales. Farmers simply do not have disposable income or if they do, they are not spending it and the innovative industries developing in Tisdale are depending on markets elsewhere. GT Mechanical is presently building oil field service buildings.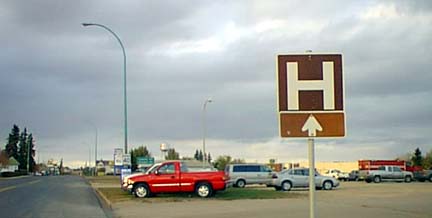 Both Melfort and Tisdale have kept their construction workers busy this summer and with many projects underway both communities have been actually providing employment for people from Saskatoon. It is remarkable the amount of work that flows to Saskatoon contractors for services in both communities. Local plumbing and electrical contractors are working to capacity and new projects rely upon labour coming in from the cities.
As for local government, they also tend to patronise City companies to the extent that it often appears that the Town of Tisdale and Tisdale School Division actually boycott local businesses. Though this issue has come up many times in the past, the trend seems to be clear that if local government needs to purchase some product or service, they will always go to the city rather then shop at home. Local businesses find it galling for their tax money to be taken and spent to employ folks from Saskatoon rather then right here. (Case in point: there are two computer companies in Tisdale and two in Melfort yet when the Town of Tisdale bought new equipment this summer, it purchased the equipment from Saskatoon, did they get it cheaper, who knows, they never even asked the local businesses.) The message is loud and clear, if you want to do business with local government, move to the city and deal with them from there. It is a wonder that local government is so totally unaware of the benefits of having more local tax payers.
In the private sector, Tisdale's successful local larger businesses, Northern Steel, Bow Mar Sales LTD and John Bob buy locally, employ full time workers and support their community and community projects with sponsorships and donations.