FTLComm - Tisdale - November 7, 1999
Aiming to get the project operational for Friday, various minor hitches held up things, but Saturday it was regular operations. This facility is designed specifically for the commerical haulling trucks that rumble to and through Tisdale each and every day and night. With this system the Coop, Shell, Imperial Oil and Petro Canada each have twenty-four hour a day fuel dispensing capabilities within a mile of each other and the crutial intersection of highways #3 and #35.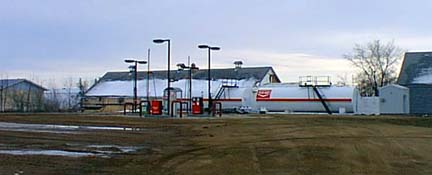 Truckers or anyone, can obtain cards to access this facility at the Coop Farm Service Centre or right online at http://beelandcoop.com. Go to the cardlock page and click on "application" or just go to the application directly by clicking here.

With dual pumps a tractor unit can fill up both sides at the same time.