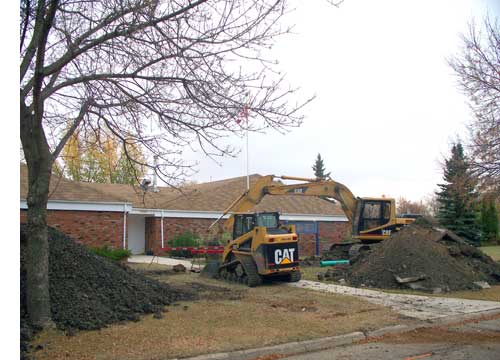 Replacing and maintaining water service to Tisdale is an important function of the Town. It is odd though that maintaining the streets in a useable condition is no longer considered a priority. No paving last year, no paving this year despite the assurance that street repair would take place every other year. Each time the town digs up a street or damages a sidewalk a sort of institutional vandalism is taking place.
This was a good piece of pavement that has been dug up to repair water service to the detachment but it will be years before that pavement is replaced and had there been sidewalks they are almost never repaired after excavation. On many blocks in Tisdale where sidewalks are installed, there is a patch of dirt or gravel where once a sidewalk had been and it had been removed in front of every house on the block, with the almost continuous water line repair that seems to be a part of Tisdale life. We have now reached the point in Tisdale where ungraded and unmaintained gravel is approaching half of all streets in the community.
Tisdale is a small and compact community with outstanding growth in the past few years. It has a tax base to maintain its waterlines which seem to require multiple repairs to the same location while at the same time sidewalks and streets are not a priority.