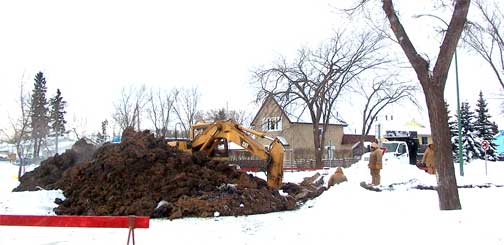 Back in 1967 the CBC did a documentary celebrating Canada's centennial called "Helicopter Canada" and it began and ended with images of Canadians digging. Its not that all Canadians are miners or grave diggers but it seems that very often we seem to be engaged in excavations.
Today seems to be one of those days. Beside Cenotaph Park the town had a huge hole open with steam rising off the wet dirt and part of the intersection closed off. It looked a lot like water break.
Then, just short of the intersection of highways #3 and #35 CP rail had the street blocked off and a detour set up. With their own hook and a backhoe they had the entire crossing tore up and appeared to be replacing both rails across the intersection. Though an odd time to rebuild a street crossing it may be routine maintenance or something more related to damage or emergency repair. Whatever the case looked like a big project.
Meanwhile heavy trucks hauling snow from cleared parking lots were busy this morning removing some of the enormous piles of snow that have grown in some parts of town. This is the season for snow removal and it would appear the continue seasons for digging.