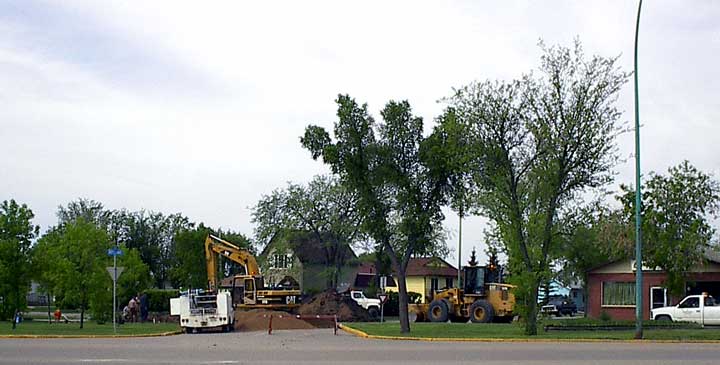 Some holes are bigger than others
FTLComm - Tisdale - Friday, June 4, 2003
This morning the town crew were filling in a fixed water break by the time I dropped around to see how they were doing at 10:00. This leak was like the others a result of electrolytic action between the soil and the cast iron pipe.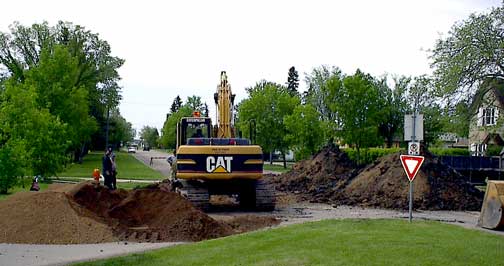 Usually by this time of the year the water breaks are sorted out and its time to do some pot hole filling but this year the water leaks just keep on coming. Tomorrow they will be digging into the intersection on the corner of 95th Street. They dug this one up two years ago and now a valve only eight feet from the earlier one has erupted.

It looks like we're going have water on our minds for a while as the Town of Tisdale will be making its decision if it is going to join "SaskWater" as Melfort has done. Some people fear that the cost of water per residence will skyrocket and others worry that like Melfort the lines in town will turn into fountains. Melfort had over thirty-five gushers when it joined the SaskWater, Saskatchewan River fed system.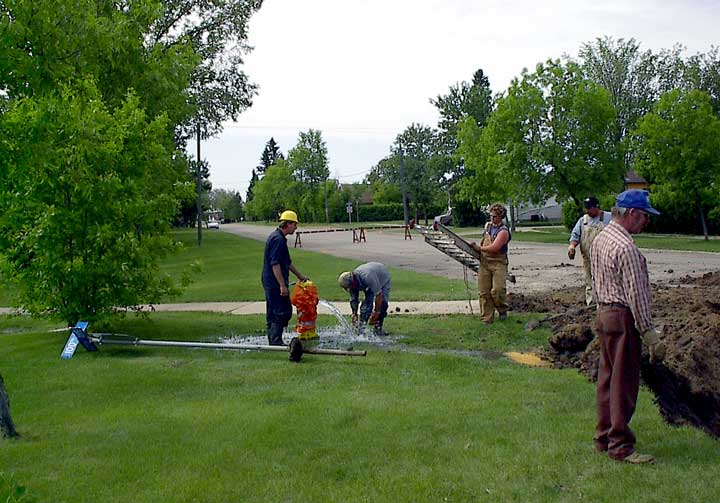 ---
Return to Ensign - Return to Saskatchewan News
This page is a story posted on Ensign and/or Saskatchewan News, both of which are daily web sites offering a variety of material from scenic images, political commentary, information and news. These publications are the work of Faster Than Light Communications . If you would like to comment on this story or you wish to contact the editor of these sites please send us email.
Editor : Timothy W. Shire
Faster Than Light Communication
Box 1776, Tisdale, Saskatchewan, Canada, S0E 1T0
306 873 2004