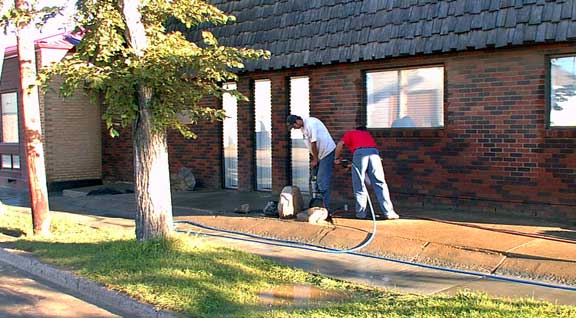 Does Your Concrete Need A Lift?
FTLComm - Tisdale - Friday, August 17, 2001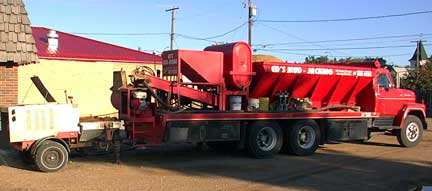 If you look around your house in Tisdale or walk down main street on the sidewalk you will notice that the surface has been in motion. Everywhere you look you will find the very dry conditions we have experienced has seen the clay that is under everything is shrinking causing sidewalks to descend and the back fill around your house going down.

This morning at the dental clinic Ed's Mud Lifting from Saskatoon is busy lifting the concrete back up to where it belongs some two to three inches from where it is now.

The process involves drilling holes through the sidewalk and concrete pads, in this case about a metre apart then using a specially blended sand and concrete, this fluid is pumped using very high pressure down the holes under the concrete and ever so gradually the concrete is raised up to where it belongs.

This form of mud jacking is a very high skill trade as the pressurised mud puts a lot of stress on the concrete and the technician has to move from hole to hole easing the concrete up without breaking it in the process.

In some cases it involves feeling and sensing the pressure buildup as well as being very aware of the subtle visual clues that indicate the amount of rise in the surface.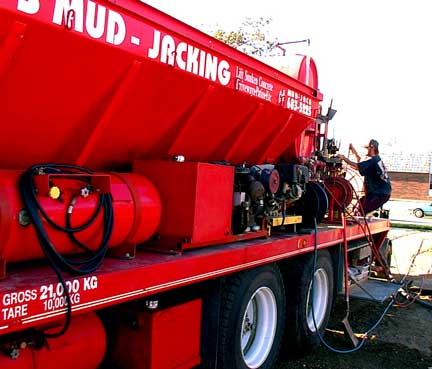 Above is one of the many cores drilled out to allow the mud to be pumped under the void beneath the concrete. The drill used to make these holes uses a diamond cutter and sheers through concrete and aggregate with ease.

The whole process involves a crew of three with a series of pumps and tanks to haul the water, sand and concrete then mix them into the right consistency and deliver the material to the holes through a special pump and hose.

One building away (below) the side walk was ripped up early this week by the town and a new brick surface laid beside the Credit Union which has had its exterior upgraded and work continues inside as its make over continues.