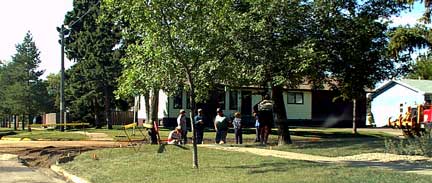 From one end of town to the other work is in progress as various crews prepare streets for upgrading. Here an engineer discusses with local contractor the curb work on this street on the South side of town where a graveled street will be given a hard surface.

Meanwhile a few blocks away the Department of highways are putting a new top surface on the service road between Bow Mar and highway 3.

ON the North end of town the town has filled in a gravel surface ready for pavement in the new Newmarket subdivision, with the new curbs in place it is a good time to get this street ready for future construction and attract new homes to this really nice area of the town.

The short street beside the Lion's park is about to get new curbs and a paved surface while contractors are working their way from the hospital past the ambulance office toward main as they clean up this street in preparation for capping as it is a bit of a roller coaster.

The street running West from the SAAN store which has been distinguished as the roughest thoroughfare in town beside heritage road is having some of its curb renewed and though it was thought that this would be missed out of this year's street surfacing it looks like at last it is going to get fixed.

Our street, 95th is also being capped. The idea is that the town wants to get its streets up to an acceptable standard they have considered all the streets and the condition of the various water and sewer lines and those in good shape and expected to hold up for some years are getting capped (additional pavement laid on them) to reduce street damage due to water and cracking. In general it is a great idea as preventative maintenance always is cheaper in the long run to having to rebuild or used poor streets.