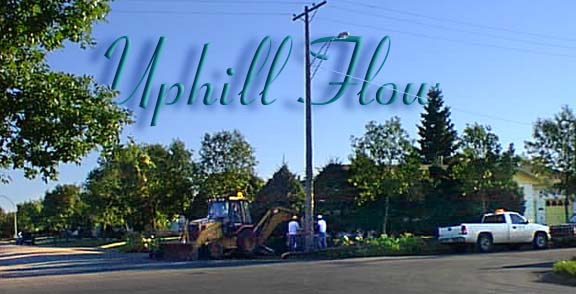 FTLComm - Tisdale - August 24, 1999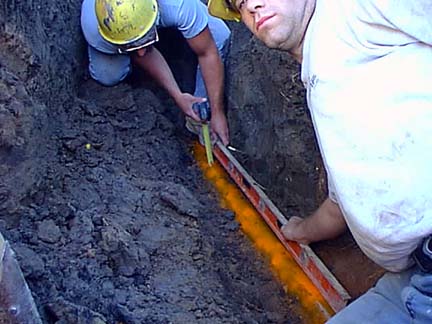 For more then twenty years sewer has flowed up hill from this house on the corner of 95th Street. This morning at seven thirty the town crew decided it was time to check into the problem that the new owners of the house have noticed and that is how slowly their sinks empty.

In only a few minutes and one tree later the source of the problem was found. I crawled down into the hole to get this picture for you as you can see the sewer line, painted here in orange for visibility, actually rises to the occassion. Holding the level at the connection to the town sewer line, in less then four feet, the service line to the house descends downward about three inches. It is surprising that all these years this system has worked at all.
Immediately the crew set to work and began digging things down further to give the proper slope to the line, carefully excavating the hole just a tad larger to set in the new line, there was a little tug as a huge black tree root snapped on the backhoe's bucket and a lot of people's telephones when dead. The telephone line that was supposed to be buried out under the street but had mysteriously migrated under the boullivard and a massive cable was sliced. SaskTel was on hand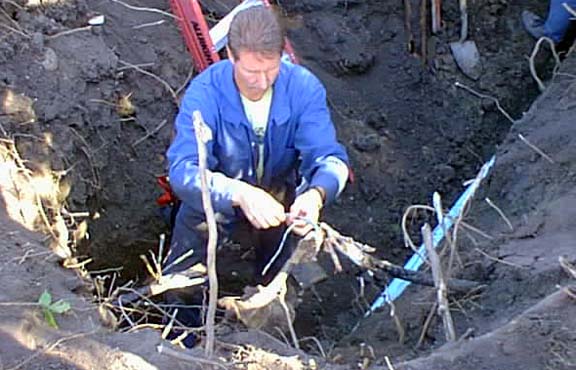 immediately and began work at about 8:30 and by 1:30 this afternoon work continues on re-splicing the cable. Surprisingly, our service was not interrupted but there are lots of folks that will not be using the internet today.

Three SaskTel workers spent most of the day in this hole and were able to restore service around 4:00 in the afternoon. The cable had severed all telephone communications to the North side of Tisdale including the Hospital.