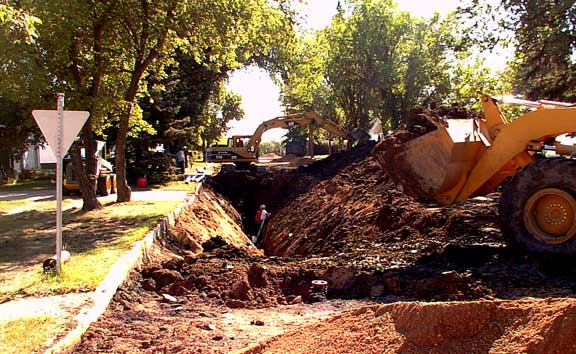 Town Rebuilds Second Water Line Block This Summer
FTLComm - Tisdale - Tuesday, August 21, 2001
Each summer the town digs up and entire block and replaces the oldest water lines in town. This process of infrastructure rebuilding is extremely cost effective as these renewed streets will not be likely candidates for a dig in the middle of winter.

They began this block on Monday by stripping off the pavement and today began the task of removing the overburden, replacing the cast iron water line with plastic, reconnecting each household as they go along.

The process involves excavation, replacement of lines then refilling in the street. To make this a good fix the excavation is packed with a packer, with sand being used to fill in around the sewer line. The process is continuous and moves at the speed of the digging. The removed fill is taken by truck from the digging end around to the filling end in a continous cycle.

To show you the sequence and process of doing this street a series of images have been taken and are presented below in a QuickTime movie that shows the men and machines replacing the water line.
This project is expected to conclude Friday then next week the crew will return to the site across from the town office where it has been discovered that East of the reclaimed site there is additional contamination with about eighteen inches fuel soaked soil that will have to be removed , refilled and repacked.