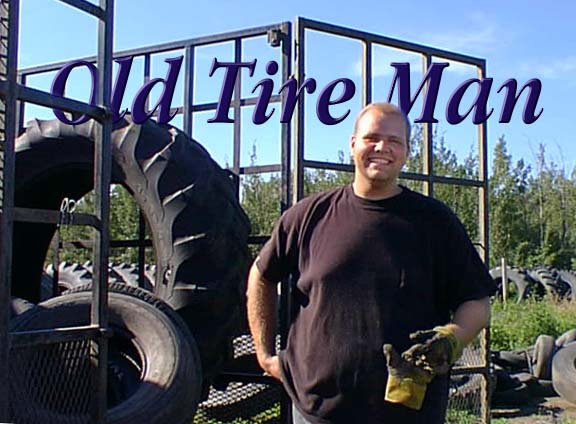 FTLComm - Tisdale - July 29, 1999
If you are like me, you probably thought that the $3.50 extra recycling fee on a new tire for your car was just another hidden tax, we are both wrong. Saskatchewan is taking recycling serious and here is the proof. On Wednesday afternoon this man one of four drivers who works this part of the province was out with his company's truck picking up a load of retired tires.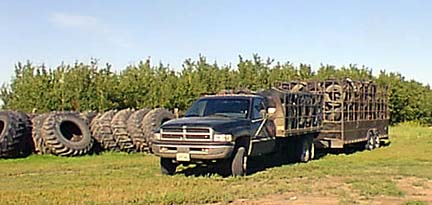 Each day he heads out from Saskatoon to a tire shop where he picks up a load of used tires. The numbers of tires picked up are recorded and the amount deducted from, in this case, Fairburn Tire's account. The load is hauled into Saskatoon where it is dumped off and loaded into a semi.

The tires are then taken to a shredding plant near Lashburn, over near Lloydminister. The tires are torn to pieces, mostly six inch squares of material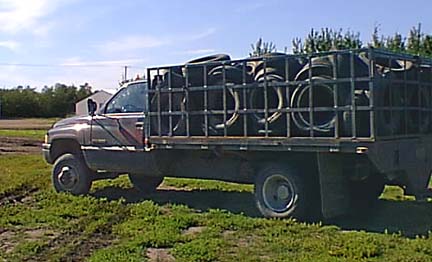 which are then marketed. Sidewalks which have no steel in them can be shredded into centimetre cubes and have been used as surface material on children's playgrounds. Much of the material is turned into asphalt for use as highway and road surfaces. Some of the material is even purchased by a North Dakota electrical company for use as fuel in a coal burning electric generation plant.

No matter what the use, your recycling fee is being put to good use and the tires are now consider a resource rather then a nuisance. The idea that some tires are being turned into road building material is the most ironic and sensible "rubber to rubber and dust to dust".