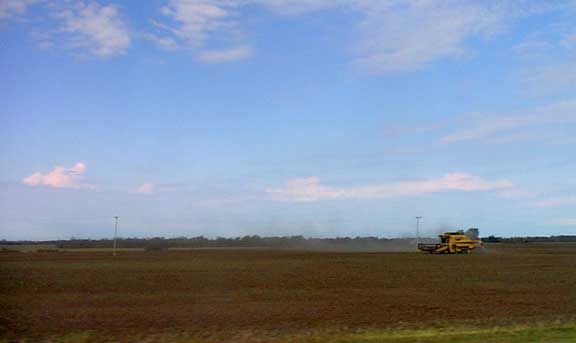 image taken Saturday North of Tisdale by FTLComm
Ottawa Far Out of Touch
Regina - Monday, August 26, 2002 - By: Stu Innes
Once again Ottawa has demonstrated how far out of touch it really is with grain producers who must try and survive the real world of agriculture in addition to having Ottawa driving the country into the ditch.
How can the latest "$172 million" in farm support demonstrate this you ask?
The Regina Leader Post August 20 2002 front page article told us that payments to farmers would be based on "eligible net sales" averaged over a five year period.
This is good news for those few producers who were lucky to have hit the nice rains and the nice weather and missed the drought and the frost and insects that reduce the yield and quality of their crops over the last five years.
These producers (there are always a few of them) are in better financial shape than the other 80% of the province's farmers because they have had decent crops, on average, for the last five years and have only suffered from the subsidy war pricing of their grains.
It is these producers who have "eligible net sales" that will qualify them for Ottawa's generous response to the farm crisis of the last ten years.
The unfortunate farmers (there are a lot of them) who have had greatly reduced "eligible net sales" for the last five or ten years especially if they are averaged not only have the subsidy wars and mother nature to contend with but have yet again have to contend with a Federal government that is so far out of touch with agriculture it doesn't realize it is bragging about providing the least amount of support to those producers in the greatest need (those with the lowest "eligible net sales" for the last five years).
Isn't this a completely backwards way to spend Canadian tax dollars you say? Yes it is! This is not a surprise to farmers who have seen it happen with both AIDA and CFIP in the recent past and now again with this latest announcement!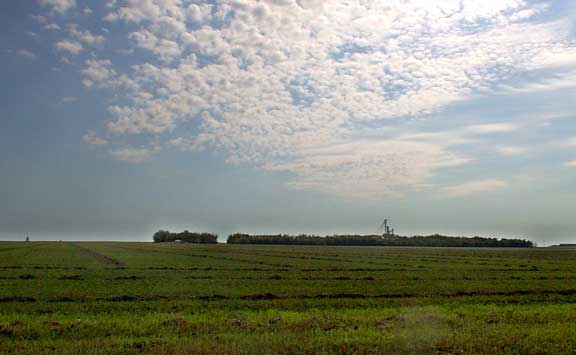 swathed canola, just West of Tisdale, Phillip Seed's field, Saturday, FTLComm