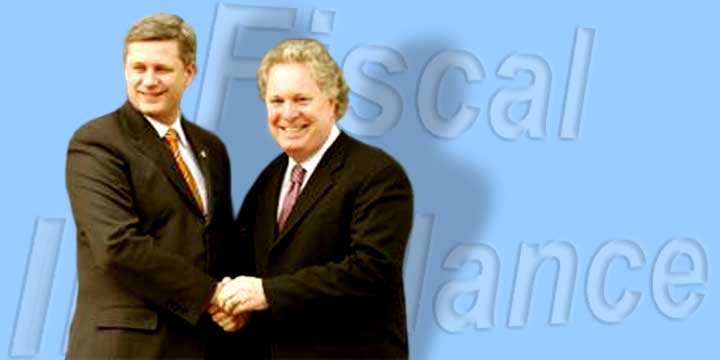 Stephen Harper and Jean Charest (base image by (CP PHOTO/Fred Chartrand)
Confusion on priority priority
West Bay, Nova Scotia - Tuesday, February 28, 2006 - by: Dr. Phyllis Wagg
During the Press Conference after the Premiers dinner with the Prime Minister, Jean Charest said "Mr. Harper set five priorities for himself," said Charest. "The number 1 priority, as I understand it, is fiscal imbalance." *

During the election in an English press release from Conservative Party Harper set out his five priorities as:

Clean up government by passing the Federal Accountability Act;
Provide read tax relief to working families by cutting the GST;
Make our streets and communities safer by cracking down on crime;
Help parents with the cost of raising their children; and
Work with the provinces to establish a Patient Wait Times Guarantee.

There is no mention of fiscal imbalance. In fact the news release indicates that Harper had set out his priorities to distinguish himself from Paul Martin because he is quoted as saying:

"The only way to decipher any sort of hierarchy among Paul Martin's many priorities was to separate those that were very important from those that were very, very important."

Was Charest mistaken? On some points there was a different communications strategy in Quebec than in the rest of Canada. Could that be why Charest believes Harper's number one priority is the fiscal imbalance? Did Harper have a different set of priorities for Quebec than for the other provinces?
Phyllis Wagg
PH.D. History
References :
CBC news staff PM and premiers end meeting without promise of more money, February 24, 2006, CBC News http://www.cbc.ca/story/canada/national/2006/02/24/premiers060224.html
Sequin, Rheal, Harper, Charest plan third meeting, February 6, 2006, Toronto Globe and Mail
Gordon, Sean, Harper, Charest to meet in Ottawa, February 15, 2006, Toronto Star
Canadian Press, Harper, Charest keeping mum as they head into lunch meeting at 24 Sussex, February 15, 2006, canada.com
Toronto Star, Editorial: Rethinking federalism, February 28, 2006, Toronto Star
Gwyn, Richard, Machiavelli, Magna Carta and fiscal federalism, February 28, 2006, Toronto Star
---
Return to Ensign - Return to Saskatchewan News
This page is a story posted on Ensign and/or Saskatchewan News, both of which are daily web sites offering a variety of material from scenic images, political commentary, information and news. These publications are the work of Faster Than Light Communications . If you would like to comment on this story or you wish to contact the editor of these sites please send use-mail.
Editor : Timothy W. Shire
Faster Than Light Communication
Box 1776, Tisdale, Saskatchewan, Canada, S0E 1T0
306 873 2004