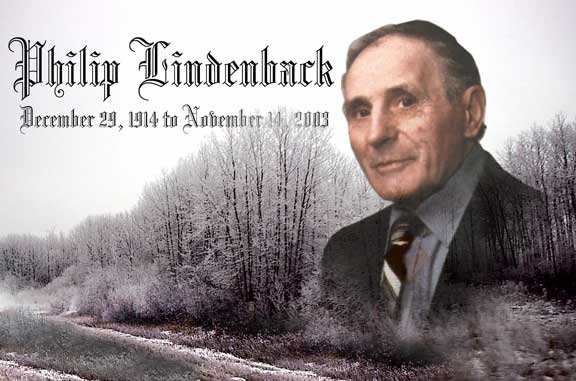 Philip LindenbackDecember 29, 1914 to November 14, 2003
FTLComm - Weekes - Tuesday, November 18, 2003


For a man who's life spanned almost nine full decades, I entered his life relatively late when in 1973, I moved my family to his son's farm a mile from the home farm yard of the man who became a friend for life, he was then fifty-eight the same age I am now and from the first moment I met him, constructing a cultivator in his shop, I was fascinated with this farmer who had such a grasp of world events and considered no project beyond his mechanical capability.
Philip Lindenback had been involved with the CCF from its beginning and was on a first name basis with some of the most important politicians in this province's history.

It is instructive to realise that Philip was a remarkably successful farmer, which by definition is a businessman. Up until the his last days he understood the practical nature of business economics, not on the day to day farm scale, but on the whole range of trade on a global scale, as well as the complexity of the international banking. When this becomes clear to you that Philip was so well read and conversant on these topics, you immediately realise that this was the background of a supporter of what so many mistakenly perceive as a "socialist" political party.


Now there are many who can work out in their own minds the intricacies of the political and economic world, but few can translate those thoughts into the tight prose that allows others to share in that insight. Up until the day he suffered a stroke, he was able to write with phenomenal clarity and was published here in Saskatchewan and in several national publications. He refused an offer from the Western Producer to write a regular column, but churned out often three brilliant pieces a week and many of those were in verse. Being able to turn a phrase that would capture a reader's attention and drill in a concept, was Philip's amazing talent.


The stroke that hammered him three years ago did not destroy that keen mind, but damaged his vision and made it impossible for him to write. It would be a massive understatement to say that he was disappointed, but it was his intense feeling of loss that made his last three years of life so difficult to endure.


Because of his writing, Philip's life extended far beyond people like myself who had the privilege of sharing time with him, as his letters not only were read by scores of readers, but they too were influenced by this man and his devotion to common sense and critical consideration.

His friends and neighbours were in the school gym in Weekes today to pay their last respects to a man who made a difference in this world. Below is the condensed story of his life as it appeared in the leaflet handed out at his funeral.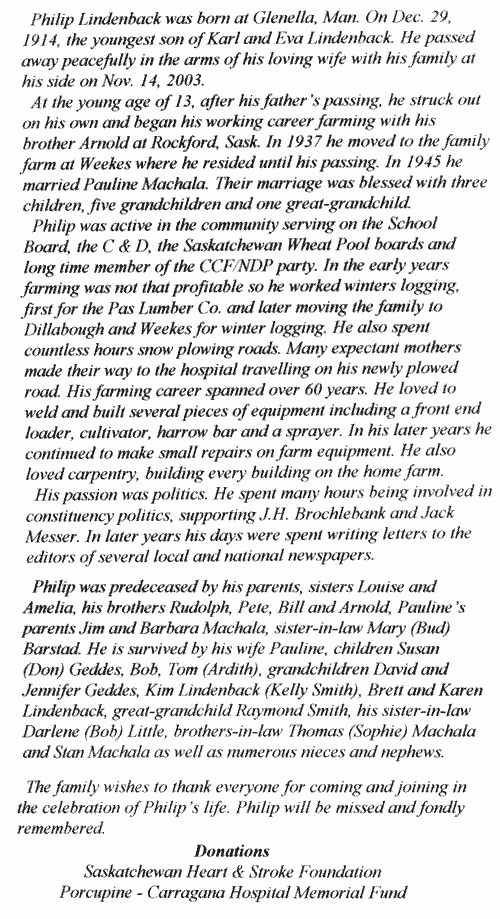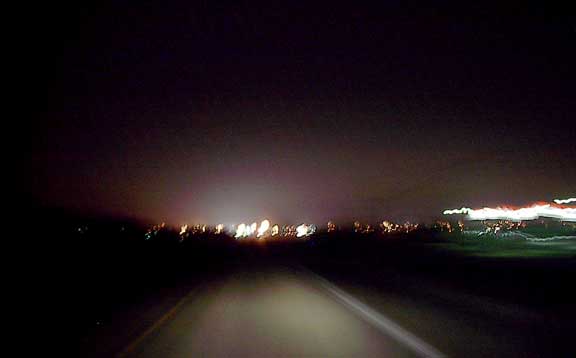 ---
Return to Ensign - Return to Saskatchewan News
This page is a story posted on Ensign and/or Saskatchewan News, both of which are daily web sites offering a variety of material from scenic images, political commentary, information and news. These publications are the work of Faster Than Light Communications . If you would like to comment on this story or you wish to contact the editor of these sites please send us email.
Editor : Timothy W. Shire
Faster Than Light Communication
Box 1776, Tisdale, Saskatchewan, Canada, S0E 1T0
306 873 2004