The process of education, of learning of growing up is frighteningly simple, not how it occurs but the simplicity of what brings about meaningful growth and development.

Be it a child, an adult or your pet poodle the process is not what is said but what is done. As a teacher I was well known for my almost continuos yapping and my students all knew but were usually to polite to tell me that I was indeed wasting my breath.

The other day a little girl road her bicycle by our house wearing a backpack and peaking out of the backpack was a doll. It was Saturday afternoon and she was obviously on her way to a friends house. The business at hand was as serious and important as anything she would do that day or any other day. We call it play but for a child play is the learning process at its finest. Rehearsal and role playing, modeling behaviour, working out the terms of reference with a peer these are the kind of things that last a lifetime.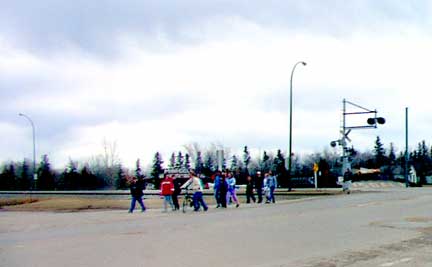 This afternoon many of the classes from TMSS were trooping over to the mall where they were seeing a collection of reptiles on display. Ostensibly the teacher would put down in his or her daybook that this outing for each class was to explore and have a hands on experience with some exotic creatures, snakes, iguana, chameleon, that sort of thing but the learning that would and did take place was far more extensive.

Walking down the street in a group without making an ass of yourself, sharing the moment and being part of the experience, seeing what others were experiencing and noting the differences between your experience and theirs. These things are called "incidental" learning experiences and have long been recognised as important in every school curriculum but what we don't realise is that incidental learning is "the" experience in school. it is the things that the child "picks up" from the experience that really are value. Learning to be involved in a social experience, learning when to be quiet and when to ask a question, learning to sense the reaction of others and noting your own reaction to novel situations.

Incidental, no not at all the real stuff of education is what the child, the learner, does with the experiences with which he or she is presented.
Return to Ensign - Return to Saskatchewan News
This page is a story posted on Ensign and/or Saskatchewan News, both of which are daily web sites offering a variety of material from scenic images, political commentary, information and news. These publications are the work of Faster Than Light Communications . If you would like to comment on this story or you wish to contact the editor of these sites please send us email.
Editor : Timothy W. Shire
Faster Than Light Communication
Box 1776, Tisdale, Saskatchewan, Canada, S0E 1T0
306 873 2004