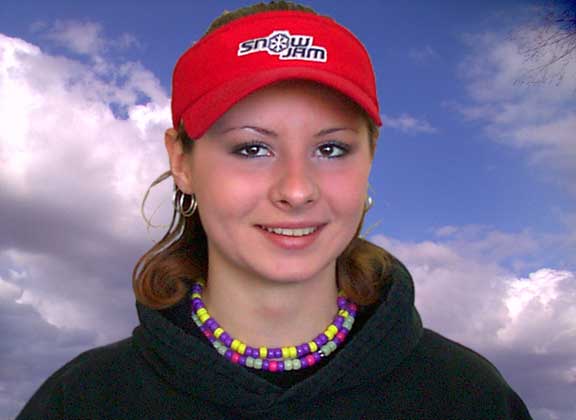 student Lindsay Krestianson
Bike Repair Shop and Student Support Centre
FTLComm - Tisdale - Monday, May 13, 2002

This morning Lindsay Krestianson explained to me operation of a TMSS project that actually began last April. Designed to provide an alternative to conventional school it had been decided to try out a store front walk in education centre. A programme of this type can concentrate on the needed skills and courses that apply specifically to the student's needs and can lead directly to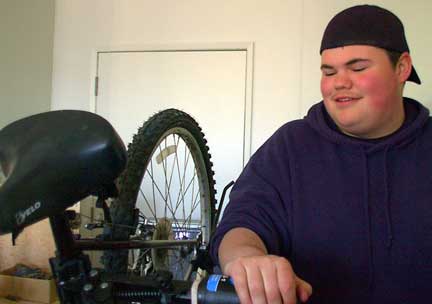 reintegrating into the regular school or help the student find his or her way into special training that will assist in finding a meaningful career.

The project has been enormously successful and the Student Support Centre has a waiting list of individuals who have either drifted out of school or through misadventure found themselves in need of education that will give them what they so badly require for a productive life.

Adam Reily (whom the camera caught with his eyes closed) as he explained the bicycle repair project that began about three weeks ago. The project provides the students enrolled in an entrepreneurial high school credit so that part of each day is spent working on bike repair and learning how a business works. Adam explained that part of each day is spent on this part of their project and the rest of the day is spent on course material. From the way he and Lindsay talked they are really enthusiastic about the practical nature of what they are learning and there are plans to see the shop continue operating as a summer project.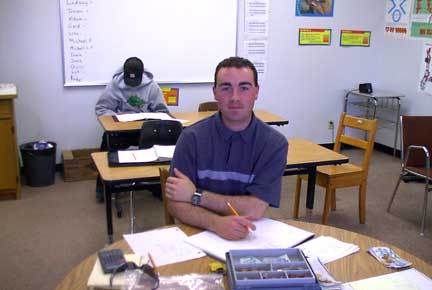 Maggie Bartnick is the Student Support Centre teacher and provides the academic guidance and structure that can help her students into the routines that both employers and students need to develop.

Seen here sorting out the cash from the bicycle business is teacher assistant David Painchaud who brought to his work his role experience working in a bicycle shop. His knowledge of bicycle repair has formed the basis for this first of what will no doubt be other entrepreneurial projects in the future.

Tisdale School Division Director Tim Tarala spoke with pride of the way this alternative school project has taken off filling a need in the community and widening the scope of the education system. Not every student is bound for university and the school system has been working hard at providing the route for students to move through adolescence into jobs that will fill their lives and provide for their goals in life.

From the smiles and keenness shown by the students this is a part of the education programme that will most certainly be a turning point in the lives of each student.