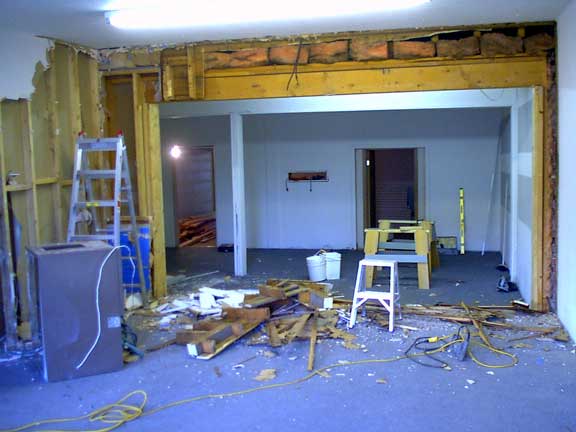 Making a new home for Student Support Centre
FTLComm - Tisdale - Monday, December 16, 2002
"I moved to Bjorkdale in 1930 and this place was going strong then." mused an observer from Tisdale as the renovations to the new Tisdale School Division Student Support Centre was getting underway on Friday.

The building is actually a series of buildings, one that is the storefront then additions and more additions added through the decades backward toward the back alley.

The School Division maintenance man who is busy at the task said that in the original structure he found the studs are cedar, which of course would explain why the building is in such good structural shape.

The renovation process will take quite a while because it is such a comprehensive rebuilt. Were this building to have been sold and reopened as a retail business there would have been no need to make alterations other than the cosmetic needs of the new business. But turning a retail store into a school means that it must be brought up to educational building codes.

The building codes for schools have been worked out through the past century and have evolved to produce safe and appropriate environments for the learner. So this renovation is just going to have take its time as the building will be gutted and the new lay out to meet the needs of its new use will be constructed. A whole new electrical system installed and two school type washrooms.

This is going to be a big project and to the students now and those in the future a really important one as the School Division and the partners in the project recognised the incredible need to get every student as much education as possible and if that means putting the school downtown then that is the way things must be.
---
Return to Ensign - Return to Saskatchewan News
This page is a story posted on Ensign and/or Saskatchewan News, both of which are daily web sites offering a variety of material from scenic images, political commentary, information and news. These publications are the work of Faster Than Light Communications . If you would like to comment on this story or you wish to contact the editor of these sites please send us email.
Editor : Timothy W. Shire
Faster Than Light Communication
Box 1776, Tisdale, Saskatchewan, Canada, S0E 1T0
306 873 2004