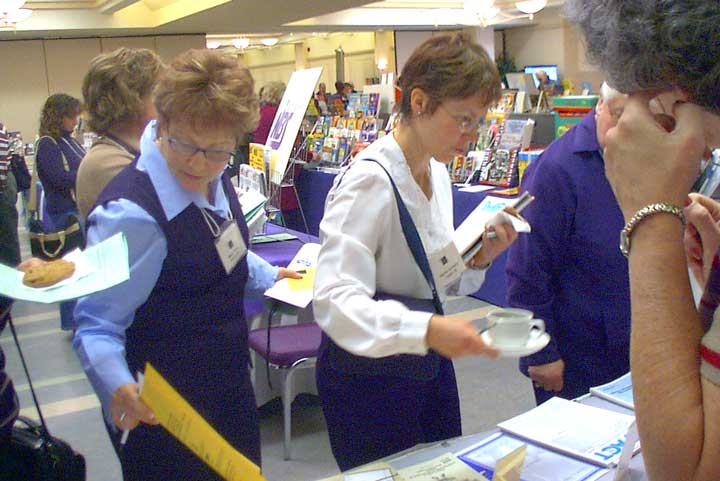 Libraries: Cornerstones of the learning community
FTLComm - Saskatoon - Friday, March 14 2003
The Saskatchewan School Library Association and national Association for Teacher-Librarianship in Canada have combined their conferences this year, as they meet here in Saskatoon, this weekend.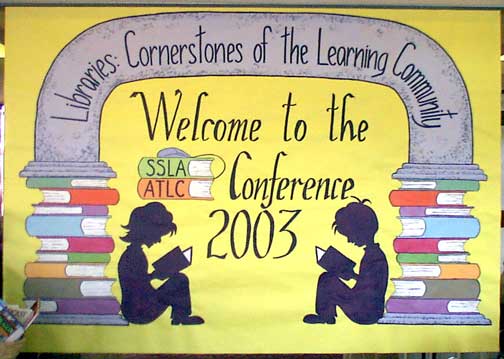 With representation from across the country, this is a larger conference than has been seen in other years, but Saskatchewan school systems are well represented at the conference.

Librarians began arriving Thursday night in Saskatoon and this morning they began their sessions with a keynote address by the editor and publisher of the Teacher Librarian Magazine, Ken Haycock, as he stressed the ultimate importance of a cooperative spirit in the education setting, that combines the efforts of the teachers in the school with the professional teacher librarian. He emphasised the now established fact in research, that schools with professional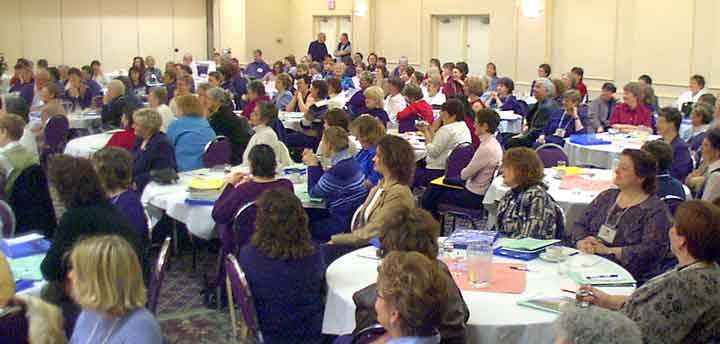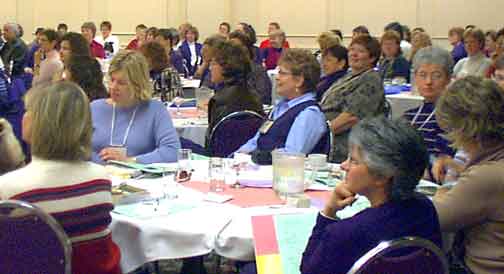 teacher librarians have better success in all subjects. Education, is after all, the pursuit of knowledge and with a professionally trained individual working with the teachers and students, it is only reasonable that students in such a school, will perform better.

Conferences like this have many sessions to assist the librarians to consider various strategies and improving methods of research. When it comes right down to it, the acquisition of academic achievement is directly related to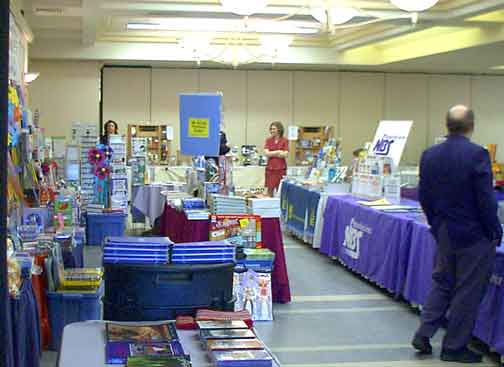 students learning through research and in every school the conduit for the research process is the teacher librarian.

With this being a national conference the trade show and display portion of the conference is extensive, but it was three Saskatchewan displays that really caught my eye and everyone attending the conference.

Saskatchewan, though one of Canada's smaller populated regions, is one of Canada's hotbeds in publishing, with no less than fifty publishers in this province. The publisher's association have a great display, but three remarkable resources for print material made a really big impression on me and I am certain on delegates to the conference.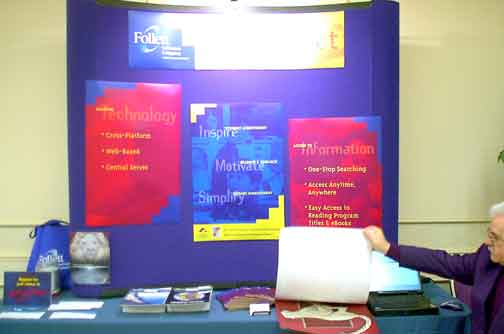 Anne Pennylegion (below) is seen looking after the University of Regina, Canadian Plain's Research Center which has jumped to the forefront in Saskatchewan as a major developer of outstanding historical material. The award winning Their Names Live On by LaRonge's Doug Chisholm, "Your loving son": Letters of an RCAF Navigator by Stephen L. V. King and the amazing In Search of Geraldine Moodie by Donny White, a book documenting and illustrating a photographer who captured Saskatchewan's people from the 1880s to the early days of this province. The research center is a dynamic development source producing books that will help generations to come, understand their heritage.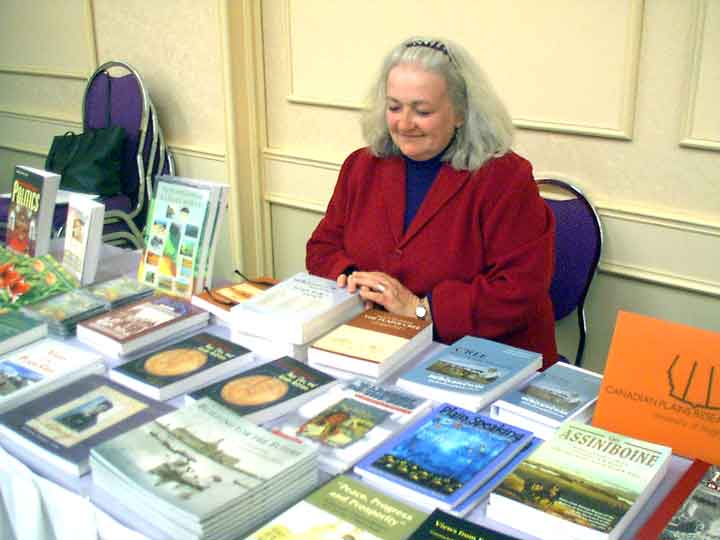 Thistledown Press continues to lead Saskatchewan publishing with original fiction and nonfiction books for readers everywhere and continues to command the attention of readers across the country.

The Gabriel Dumont Institute is rapidly become the best source of information about and by western Canadian aboriginal people. Ken Carriere's (from Cumberland House) new award winning book in Cree and English The Bulrush Helps the Pond is seen at the bottom of this page and is a work that not only illustrates the richness of Cree culture, but is a treasure to all who call this place their home.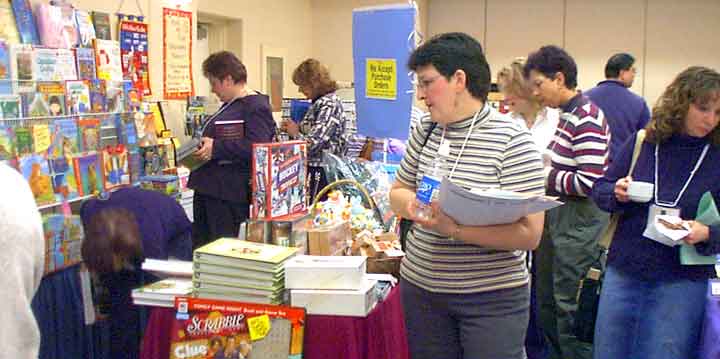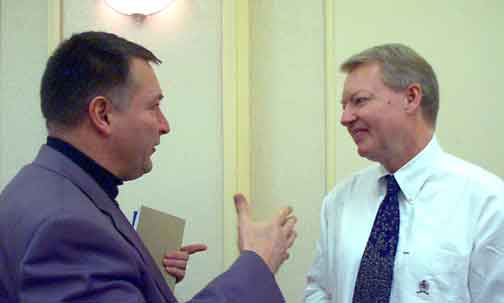 This conference though focused on the role teacher librarians play in the schools across Canada, also had some sessions on the important part Principals are playing in the development of school learning resources. Once the budget of a school was needed to cope with the basic textbooks in use, but to meet the demands of this time related culture, students and their education, is dependent upon the school's library and the increasingly more important role played by the Internet, both of which need to be managed and included in the planning process.
keynote speaker Ken Haycock, (right) editor of Teacher Librarian after his presentation this morning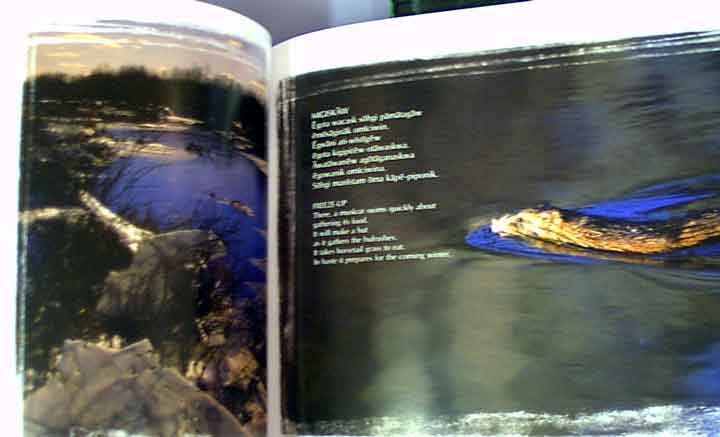 ---
Return to Ensign - Return to Saskatchewan News
This page is a story posted on Ensign and/or Saskatchewan News, both of which are daily web sites offering a variety of material from scenic images, political commentary, information and news. These publications are the work of Faster Than Light Communications . If you would like to comment on this story or you wish to contact the editor of these sites please send us email.
Editor : Timothy W. Shire
Faster Than Light Communication
Box 1776, Tisdale, Saskatchewan, Canada, S0E 1T0
306 873 2004