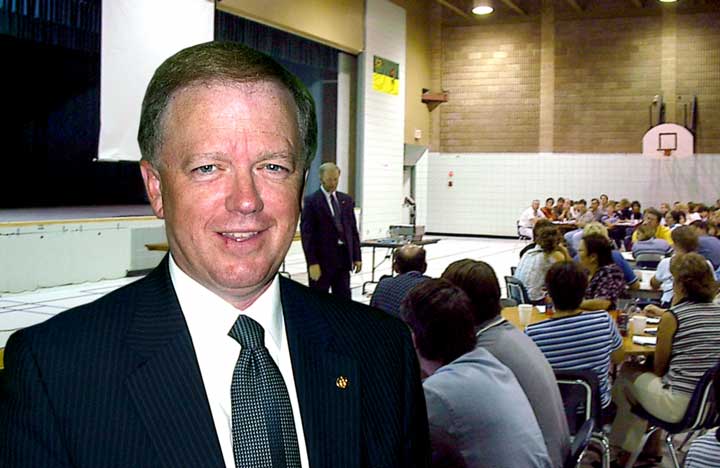 Winning With People:
The Challenge of Change
FTLComm - Tisdale - Tuesday, August 26, 2003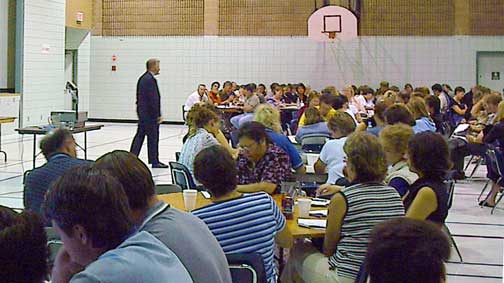 With the new school year about to begin the teachers from Nipawin, Hudson Bay, Melfort and Tisdale school Divisions held a very special one day workshop today in Tisdale. This workshop was focused on a topic that was as appropriate to business as it was to education a number of businesses and the Chamber of Commerce were involved so that the huge auditorium was filled to learn more about themselves and how they each go about doing things.

Kit Grant is an experienced psychologist, school counsellor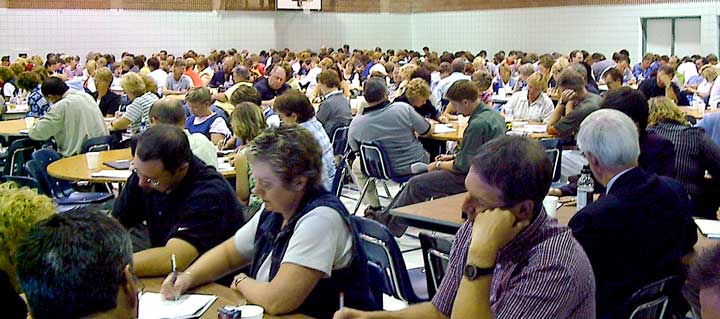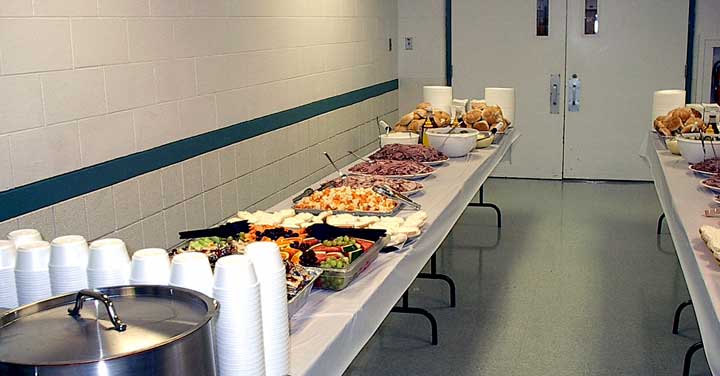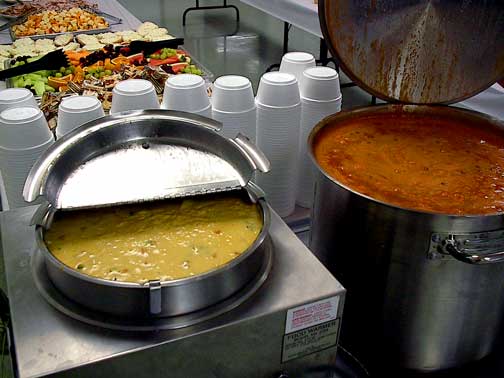 But as readers of this web site know, the true test of an event is the quality of the food and in this case there is no question that this day long workshop was a great day for all. Zazula's Mobile Catering, headquartered at the Tisdale Hotel provided
the sumptuous lunch, with steaming delicious soup, cold meat and salad to make a bunwich, this was the perfect meal to go with the hard work of the workshop.

With more than five hundred people taking part in this event the parking lot at the RECPlex was full with Hudson's Bay's school buses filling in to provide transport for its teachers.


During the lunch hour participants spilled out into the fresh air. As adults and as educators we all know of the importance of the incidental learning that takes place between children in the informal recreational part of their everyday activities yet we often forget that we too gain so much from the interaction with others at a professional development event. As a long time conference goer I discovered that the most important things I learned at some of the very best conferences I have attended were from the interaction and exchanges with peers at the conference. I have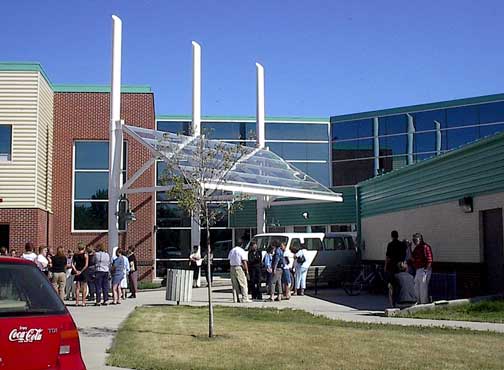 known many colleagues who make it to the opening session at a conference and spend the rest of the time concentrating on their fellow conference goers and come home with as much or more than those who attend the sessions.

Clearly, today's sessions aimed at the individuals goals, establishing priorities, working on planning, developing an attitude that let's one understand the basic limitations of one ability and the situation, dealing with perfectionism, decision making, dealing with crisis, learning to trust and rely upon others, making meetings effective and dealing the big one in my life, procrastination. The participants I talked to said more than anything it was what they were learning about themselves that made this a positive experience.
References:
Kit Grant home web page
http://www.kitgrant.com/
Speakers' Spotlight, Kit Grant
http://www.speakers.ca/grant.html
Speakers Information, Kit Grant, CSP
http://www.speaking.com/speakers/kitgrant.html
National Speakers Bureau, Kit Grant
http://www.nsb.com/speakerbio.asp?i_speakerid=108
---
Return to Ensign - Return to Saskatchewan News
This page is a story posted on Ensign and/or Saskatchewan News, both of which are daily web sites offering a variety of material from scenic images, political commentary, information and news. These publications are the work of Faster Than Light Communications . If you would like to comment on this story or you wish to contact the editor of these sites please send us email.
Editor : Timothy W. Shire
Faster Than Light Communication
Box 1776, Tisdale, Saskatchewan, Canada, S0E 1T0
306 873 2004