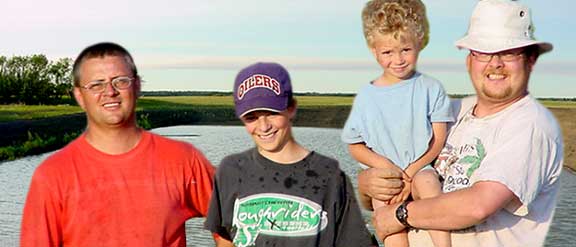 Moving A Dugout
FTLComm - Zenon Park - Tuesday, July 23, 2002 Images by: Connie Chabot
Connie sent us this great set of pictures that tell the story of a family moving the water from a dugout to the one near their farm yard and providing themselves we a water supply. She explained that their family is not alone with this problem as many of their neighbours in the drought affected area North of Tisdale have to find water to provide for their family.

Here is Guy and Connie's story in pictures.
The pipe is obtained through PFRA (Prairie Farm Rehabilitation Act). The PFRA was established after the great depression and the dirty thirties to come up with ways of handling the ravages of low rainfall on the Canadian prairies. They have be working with farmers ever since providing trees for shelter belts and assistance in constructing water reservoirs and wells.
The source dug appears in Connie's pictures to be a considerable distance and in the sequence of pictures below we see the farm tractor powering a huge pump to suck the water from the source, pump it through the pipeline to the farm yard water supply.
Connie's pictures of her family clearly show their joy and celebration at security water that will sustain their home for the rest of the summer and the coming winter.