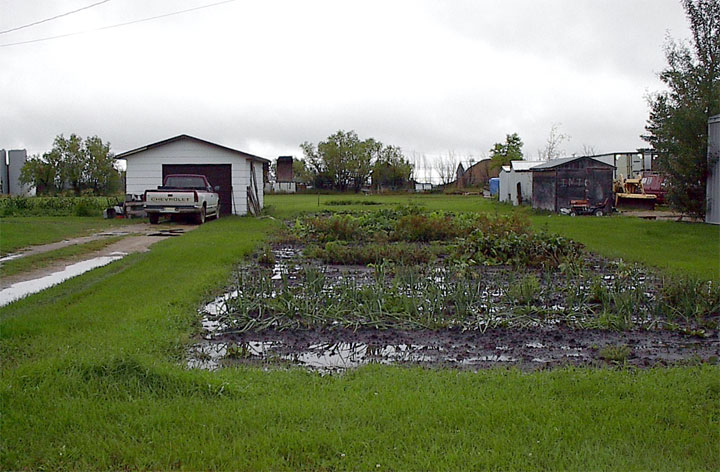 Tisdale, a swamp
FTLComm - Tisdale - Thursday, September 15, 2005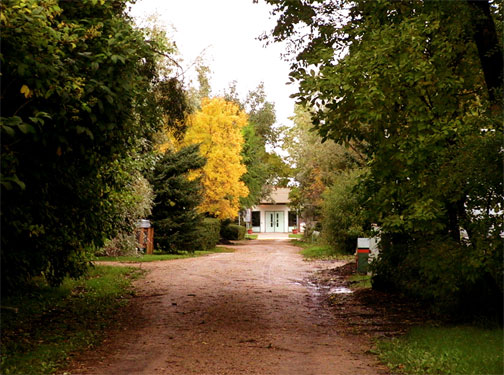 I was shocked to see this garden (above) laying in water this morning and then realised one of my neighbours had his pump running as he pumped water from his back yard out into the storm gutter.

Tisdale is moving into its fall colours and with the lawns laying in water and puddles everywhere it certainly looks like late fall.

The image below is another shocker. A back alley in our neighbourhood turned into a bog.

Looks like life boat drills are about to become part of the cirriculium in Tisdale's schools.

That reminds me of a story. When I worked in Bella Bella in 1986 an eleven year old boy was pointed out to me one day on the playground he wore a life jacket. Now Bella Bella is an island with the Pacific ocean surrounding it and some students came to school each day by water taxi so it did not seem that strange for a grade six boy to be wearing a life jacket at all times. The story was even sadder. His younger brother had fallen overboard from a fishing boat and was los,t so his parent bound and determined not to lose their second son had him always, always always wear a life jacket.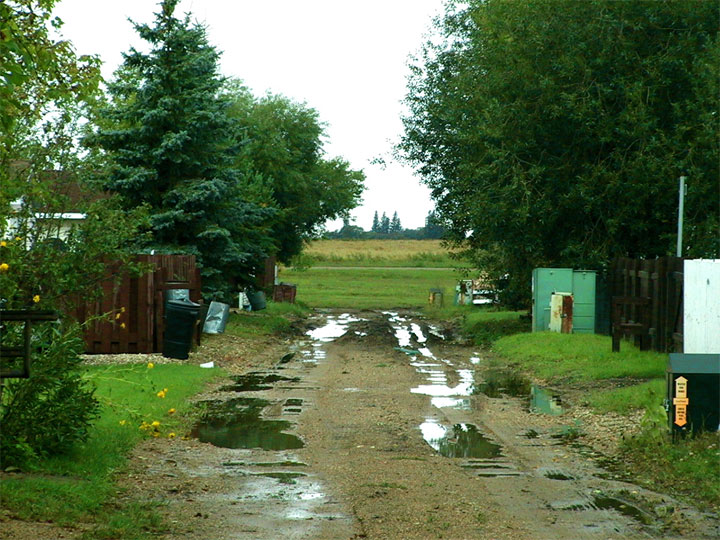 Return to Ensign - Return to Saskatchewan News
This page is a story posted on Ensign and/or Saskatchewan News, both of which are daily web sites offering a variety of material from scenic images, political commentary, information and news. These publications are the work of Faster Than Light Communications . If you would like to comment on this story or you wish to contact the editor of these sites please send us email.
Editor : Timothy W. Shire
Faster Than Light Communication
Box 1776, Tisdale, Saskatchewan, Canada, S0E 1T0
306 873 2004