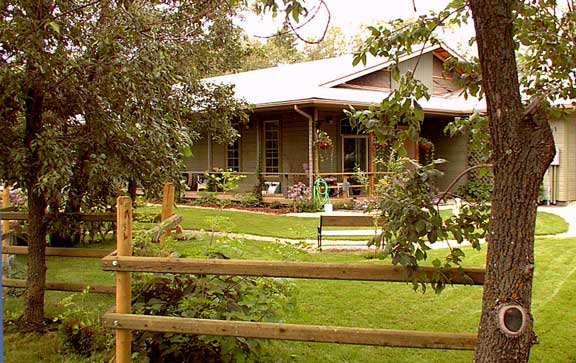 Living Spaces
FTLComm - Tisdale - Sunday, August 11, 2002

Sometimes the subject matter is just to dramatic or interesting to blend the images into a smaller format or work them into a "Flash" slide show. This is the case with this story. This is a yard in Tisdale that has simply gone over the top in constructing an outdoor living space and it is important for you to see it just as it looked today when these pictures were taken around eleven o'clock. To reduce the download time the story has been split into three pages with eight pictures on each.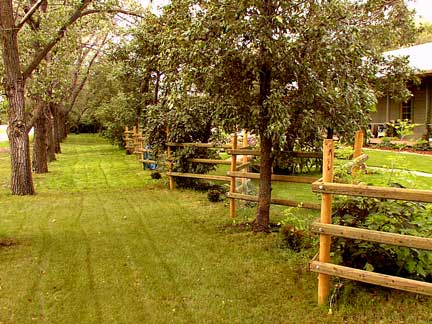 The owners had this house built to their plans last summer and moved in about a year ago now. However, we did not show it on this web site until October. It is important to understand this because everything you see has been created since then. The lot had these fine trees on it and the construction process was done carefully enough to leave them in place but all the other plants were put in place since the middle of May.

As you look at these pictures note the extreme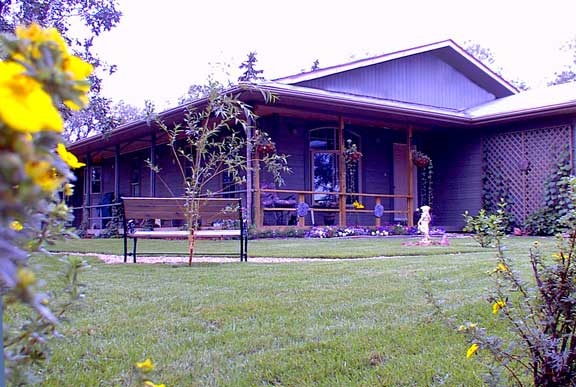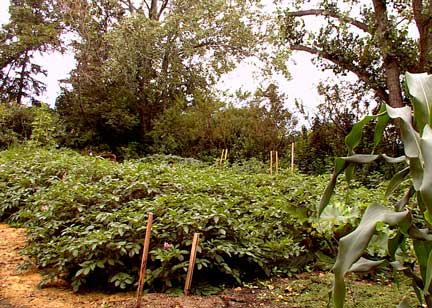 attention to detail that has been given to create this over all thematic approach to developing a yard.

The house was designed by its owners so they had planned the sort of yard that would go with this house. The railed verandah is crafted with the windows and entrances to bring the outside in and blend the house into its setting.

With all the is included in the yard I wondered at the time it must have taken yet indeed they found time to plant a garden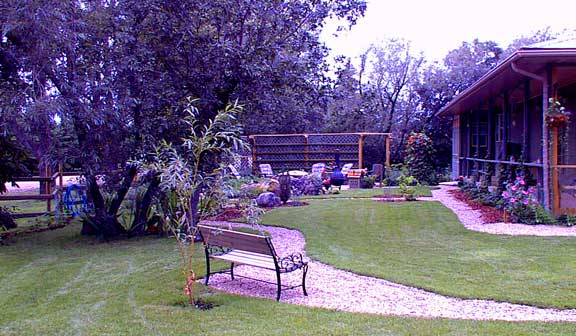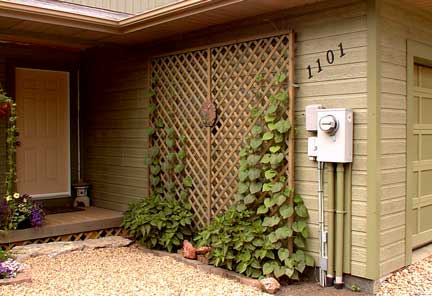 The scene above looks across the large tree protected front yard and gives you some idea about the extent of the placing of the various elements to create what is essentially on outdoor living room.

On the right is the front entrance to the house where the lattice has been stained to give a weathered and seasoned look as it will take a year or two for the vines to work their way up the side of the garage.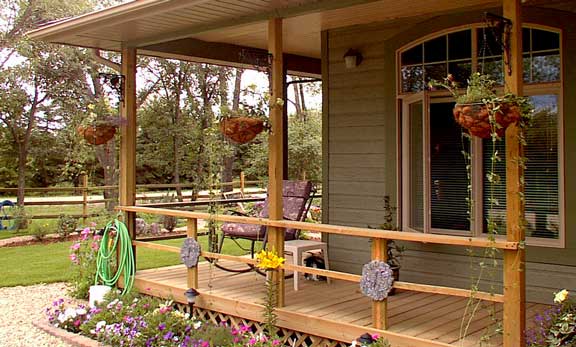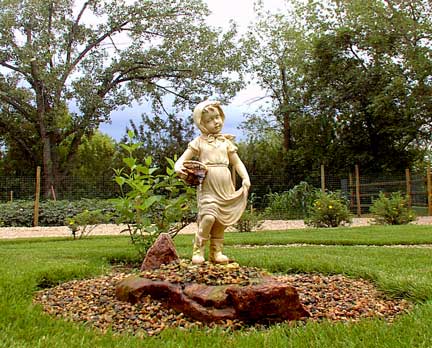 This is not just a show place but a yard that is for living, enjoying company, reading a book, bird watching and enjoying the setting that makes this such a special place.

The little girl fountain was made by the owner by taking a statue and drilling in the route for the water, constructing a reservoir base that is shielded by a great piece of granite then placed in this setting on the main entrance side of the house. This low angle picture exaggerates its size as you can see at the third picture on this page how it fits into the scene.
page 1