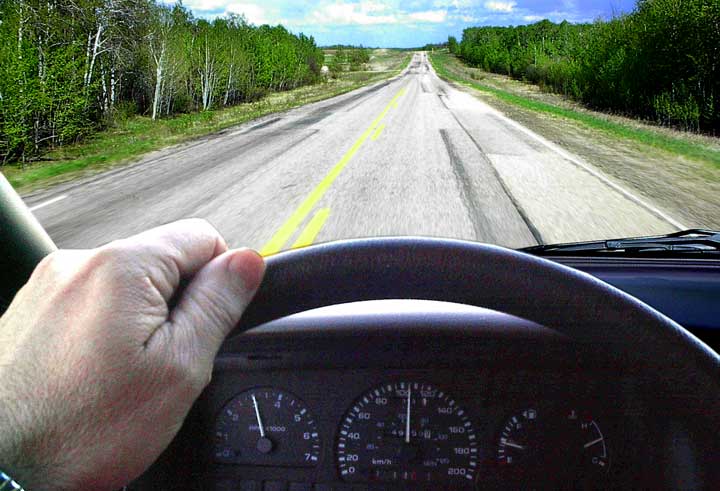 Victoria Day Weekend 2003
FTLComm - Tisdale, Naicam, Carrot River- Wednesday, May 14, 2003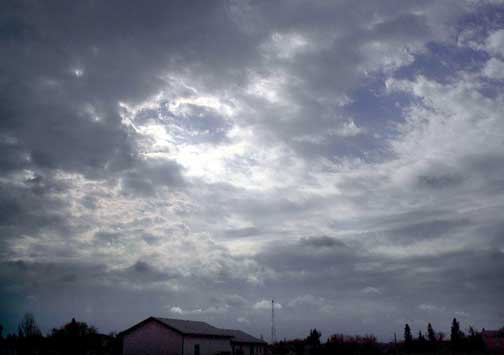 Just as geese fly South in the fall Canadians get in their cars and trucks and head for campgrounds, cabins and fishing spots on the long weekend in May.

Last night we had the first thunderstorm of 2003 in Tisdale and received a nice 8/10th of an inch of rain, rain that did not stop falling until breakfast time. This picture was (right) was taken of the twisted sky at 9:00 and already campers and pickups with boats in tow were making their way through town headed North toward Nipawin, the fishing Mecca of the prairies.

Meanwhile the summer staff of Tisdale's swimming pool were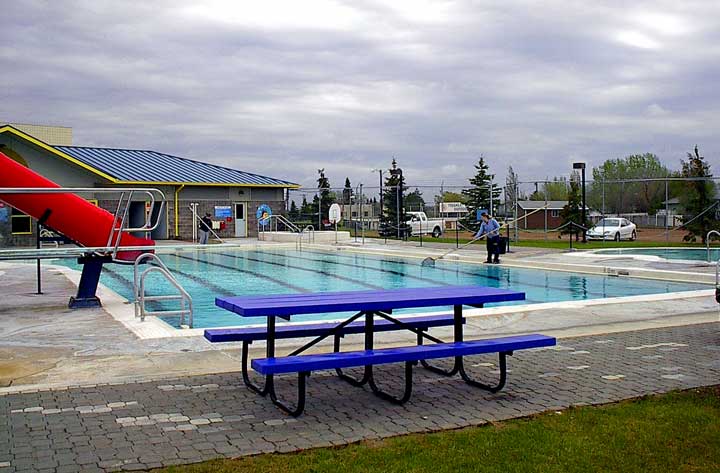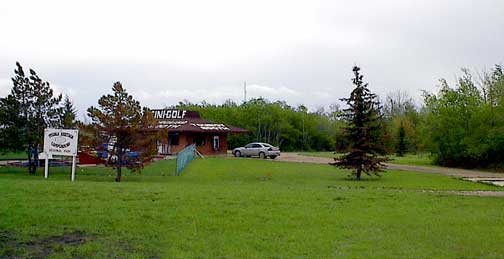 tidying up from the night's shower preparing for opening day of the 2003 season.

I headed out to the Tisdale tourist booth and camp ground and two tourists were in the office getting briefed even though the booth did not officially open until 4:00 this afternoon and the staff were getting the year organised this morning.

The morning clouds began to break up a little as a quick sharp cold wind began to show some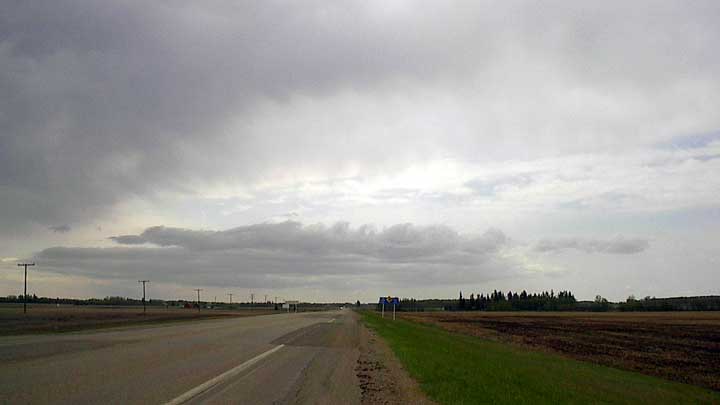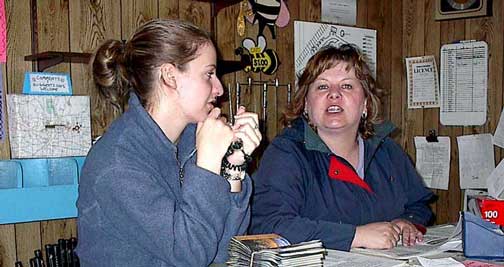 vigour from the Southwest.

The tourist booth is a vital part of every visitor's trip through this part of Saskatchewan as it provides them with the on site information that will make their trip through the area easier and thousands will ask where to find an igloo or what time is it. The staff will be there to field the questions. Sponsored by the Tisdale Chamber of Commerce it will be a one person show until mid June when a part time person will help to extend the hours open.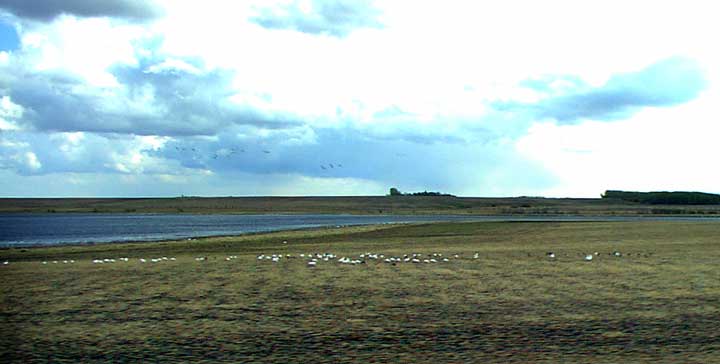 By mid afternoon we were down in the Naicam area where a nice peaceful flock of Blue and Snow Geese has set up their Victoria Day camp.

This group of tourists on the way out to Greenwater had to stop and fix a flat with the help of a local farmhand just two miles East of Naicam.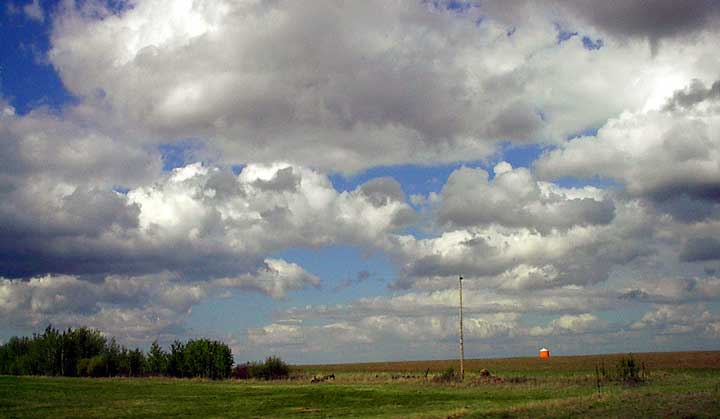 But all day the temperature steadily declined as the sky became more crowded each hour. While we went from Tisdale to Naicam and back, Kevin and Sandra McIntyre went into Nipawin from Carrot River here is what Kevin had to say about this year's long weekend:

No two ways about it, it's nasty out there. We went to Nipawin, even took the camera but that story will wait.

My weather forecast is again dead on. Every year, without fail, Victoria Day weekend is plain nasty. Its cold, wet, windy and on the news we will see stories of tough Canucks huddled by Hibachi's roasting their weenies wearing shorts, sandals and down filled jackets.

Next weekend, and you can quote me on this, while Canadians are cloistered inside their offices on the American Memorial Day weekend - the weather will be perfect. Mid to upper 70's, calming breezes, sun beaming onto fresh blades of grass, begging for the scent of briquettes and little boys named Billy playing with puppies.

But will we as Canadians ever entertain the thought of adjusting the date of our holiday weekend? NO! We're different than the Americans. And tougher too. In my travels today I saw boats being hauled to the lake and the beer was flowing from the bar.
There is no doubt about the enthusiasm folks have for this first long weekend after winter and yet it is also a time for largest number of car crashes each year. On number one highway tonight the RCMP had a road block set up to filter the traffic as it flowed into and out of Saskatchewan near Moosomin.

Despite the weather Canadians are out there this weekend and at 10:30 Friday night the temperature in Tisdale is 4ºC.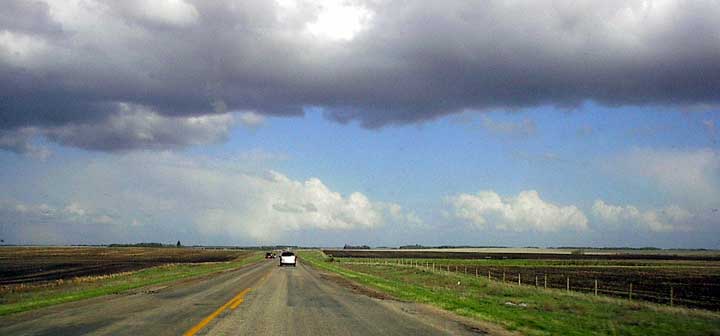 ---
Return to Ensign - Return to Saskatchewan News
This page is a story posted on Ensign and/or Saskatchewan News, both of which are daily web sites offering a variety of material from scenic images, political commentary, information and news. These publications are the work of Faster Than Light Communications . If you would like to comment on this story or you wish to contact the editor of these sites please send us email.
Editor : Timothy W. Shire
Faster Than Light Communication
Box 1776, Tisdale, Saskatchewan, Canada, S0E 1T0
306 873 2004