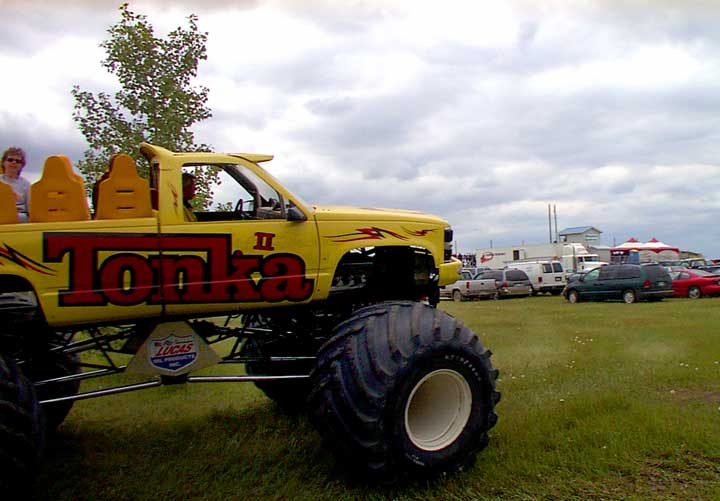 Motor madness weekend
FTLComm - Tisdale - Saturday, June 7, 2003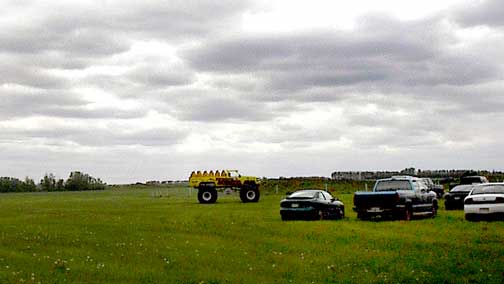 Though the Environment Canada had predicted some sunlight and warmer temperatures this weekend we are seeing pretty much the same kind of weather we have experienced most of this past week. There was a trace of rain early this morning.

The poor weather definitely put a damper on the crowd at the many events today but the cool windless day produced almost perfect racing conditions at Silvertown Speedway as the Outlaw sprint cars were the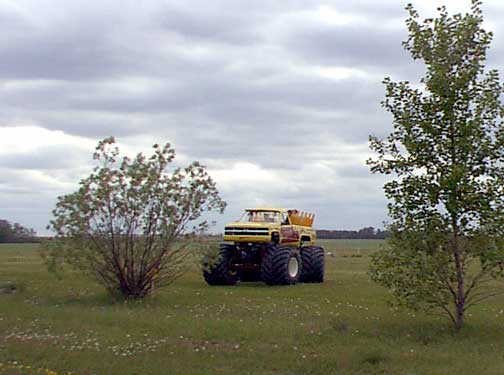 icing on the invitational races today and tomorrow.

One event that certainly looked like fun was the Tonka monster truck, fitted with seats in back as it bounced its way around the field and through the ditch to the South of the Speedway.

Meanwhile the Tisdale pilots were in the sky with their rides for young people. Three aircraft were in the air continuously all day long and when we dropped into the airport there were lots of people on hand and more arriving as young people were getting their first plane ride under the cloudy skies. With the ceiling being at 4,600 feet it was safe and stable flying for passengers and crew.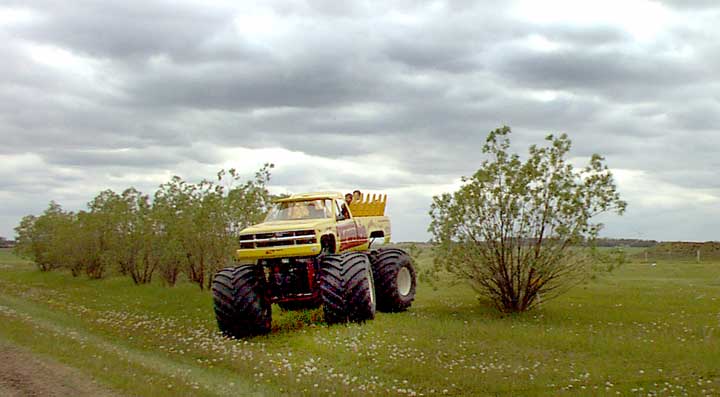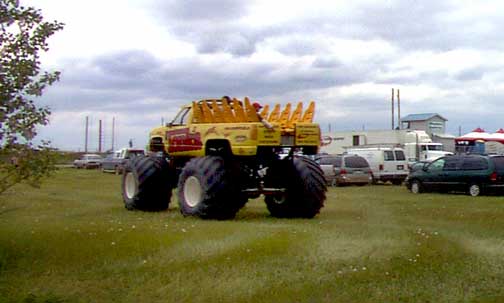 Tomorrow I hope to make it out to the airport for the flying club's breakfast. They hope to have some model aircraft demonstrations.

The ball tournament continues and maybe, just maybe the clouds will open and some sunlight will pour through and illuminate this land.

Races will continue at the Speedway tomorrow and you will still be able to get a ride in that big yellow truck.
---
Return to Ensign - Return to Saskatchewan News
This page is a story posted on Ensign and/or Saskatchewan News, both of which are daily web sites offering a variety of material from scenic images, political commentary, information and news. These publications are the work of Faster Than Light Communications . If you would like to comment on this story or you wish to contact the editor of these sites please send us email.
Editor : Timothy W. Shire
Faster Than Light Communication
Box 1776, Tisdale, Saskatchewan, Canada, S0E 1T0
306 873 2004