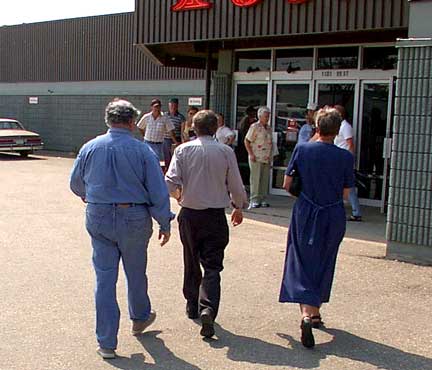 Tisdale a meeting at the Credit Union, but the tone of the trip was more to make a presence and turn video clips and press reports into real life working people.

As soon as the bus came to a stop in the Beeland Co-op mall Premier Calvert was off to meet who ever was around with a broad smile, firm handshake, and gentle words, that definitely came from the mouth of a preacher. It was clear that those he met appreciated just that moment, of being able to touch and be affected by their premier.

While he dashed around the store, I clamoured into the bus exchanged some comments with the real guy in charge, the bus driver, then had a chance to talk briefly to Minister Trew. Pat Atkinson came forward and chatted for a moment. Eric Klien was also aboard, as perhaps other ministers and aids. But just as with the premier, this was an occasion for greetings and pleasantries. I mentioned to Mr. Trew that he looked good at the opening of the Greenwater Golf course and I offered Ms. Atkinson my help and assistance with any project that involved the invigorating of rural Saskatchewan.

The most important element of the meeting was on the human level and I am certain that if for no other reason the bus tour is a valued exercise only because smiles and light small talk does more to let the government know we exist and tells us that they are not strange creatures who are bent on the control and destruction of our way of life, at least let us hope that is the case. People meeting people is always a positive thing, there is nothing to lose and everything to gain from such encounters and I for one, was happy to have been able to shake the hands of Mr. Calvert, Mr. Trew and Ms. Atkinson and for certain they benefited from meeting me.