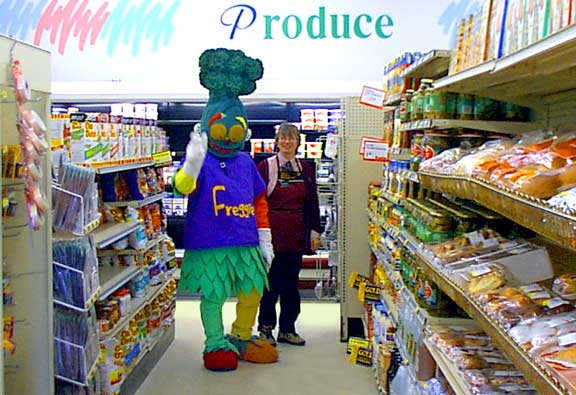 Mr. Freggi and the healthy lunch
FTLComm - Archerwill - Thursday, October 24, 2002
The visit of Mr. Freggi to Rosevalley and Archerwill schools has become an annual event as the Co-ops in each community pitch in and support the school in an awareness programme promoting the selection of nutritional and healthy foods. On Wednesday, the Archerwill Co-op provided the students of their school with milk and fruit as part of the week long awareness week.

Though schools have traditionally advocated a healthy diet for children it has been a very difficult and uphill battle. It was reported last week that Canadian children are as many as 60% overweight. The interesting part of research like this immediately results in the speculation by journalists and medical authorities to come up with some sort of explanation. CTV news suggested that the high level of obesity among children must be due to the shift in activity from sports and play to watching television for prolonged periods of time and excessive video game playing. No corresponding research was reported to support this theory while at the same time only weeks ago another reported identified childhood poverty in Canada to be on the rise.

One can speculate all they want about television and video games but the fact that Canadian children from coast to coast are about 60% living below the poverty line seems to be somewhat related. When faced with limited funds the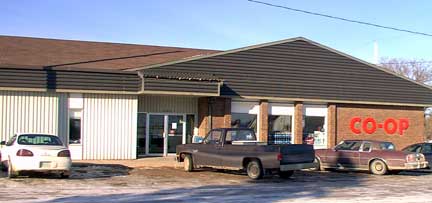 cheapest foods are those which fall into the fats and high carbohydrate type. Wieners and macaroni are more likely to find their way onto poor families tables than fresh vegetables and fresh fruit.

Archerwill's Co-op is to be commended in their annual campaign and clearly the parents and students of the community appreciate their contributions to this week's food menu at school.
---
Return to Ensign - Return to Saskatchewan News
This page is a story posted on Ensign and/or Saskatchewan News, both of which are daily web sites offering a variety of material from scenic images, political commentary, information and news. These publications are the work of Faster Than Light Communications . If you would like to comment on this story or you wish to contact the editor of these sites please send us email.
Editor : Timothy W. Shire
Faster Than Light Communication
Box 1776, Tisdale, Saskatchewan, Canada, S0E 1T0
306 873 2004