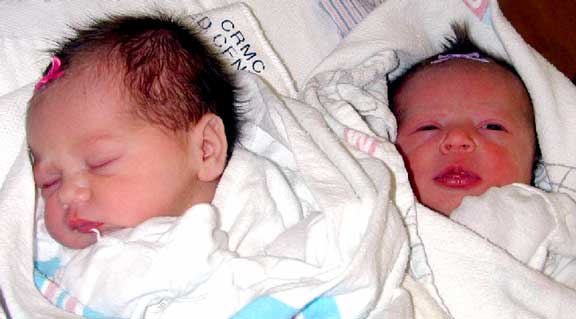 "Through thick and through thin, all out or all in, we're goin' to go through it together"
FTLComm - Tisdale - Sunday, October 6, 2002
My cousin Larry sent me this wonder picture of this twin grand daughters. These little girls were born in Idaho and no doubt will continue their lives there.

Though where one is born and where you grow up, will certainly affect the kind of life you will have, I certainly wonder if it is as important now and to these twin girls as it once was.

No doubt you will have noticed that one of the things people first ask you when they attempt to get to know you is "Where are you from?" The answer to that question is indelibly engraved in every word you say and every gesture you make. Established within us is our heritage, the complex forms of communications passed on to us from our parents and we in turn will pass those same systems on to our children. It is so important to remember that 85% of all meaningful communication is not in the form of words of any kind spoken or written, but in the form of non-verbal communicaitons.

It came as a rather serious shock to scientists in the early sixties when they discovered the enormous amount of brain processing power that is devoted to vision and that most of every individual's non-verbal communications skills are permanently established before age six.

This brings me back to the issue of where are you from. Jo-Ann came to Northern Canada from her home in Cape Breton from an Irish catholic father and a Scott mother. Yet she spoke perfect CBC English, had worked all over North America and unless you spotted her St. Xavier's ring on her finger, you would never guess this young woman was from a place where the rich culture has a complete oral language unique to itself, let alone an accent that is beyond non-Cape Bretoner. Still Jo-Ann was deep down a real Cape Bretoner, when it came to her life and the things that were important. She would tell us how it was to go home and just "know" what everyone around her was thinking as the information poured in and she did not have even wait for the words to come.

So what about Larry's grand daughters? Interesting problem. The modern communications systems of today will not disturb or disrupt the next four years of their lives. But the one thing that will dominate every part of their lives is not the absorption of communication skills that will take place between they and their mother and also ther father, but these two have the added twist of each other.

I once met a pair of twin boys in a school who had grown up in an environment where they did not have much interaction with adults. They were later adopted and their parents discovered these guys talked to one another, but in no known language anyone had every heard. University professors came to visit and study these two and try to work out how they had develop, all on their own, a complicated language. Bye the way, they were an interesting problem in the classroom for their teacher, as they became extremely aggitated if place far away from one another and performed as outstanding students when seated close together.

Identical twins are biologically and for almost every definition we have, one in the same person, with two bodies. The study of twins has been one of the most productive realms in psychology because they offer such important conditions that tell us a lot about being human.

The two little Idahoans will face the same challenges and remarkable time in history to grow up, but no matter how amazing the changes that will be part of their lives, the support or even conflicts, between each other, will be far more important than any other factors around them.
Reference:
Sondheim, Stephen, Together, Wherever we go (from Gypsy)
http://lyricsplayground.com/alpha/songs/t/togetherwhereverwego.html
---
Return to Ensign - Return to Saskatchewan News
This page is a story posted on Ensign and/or Saskatchewan News, both of which are daily web sites offering a variety of material from scenic images, political commentary, information and news. These publications are the work of Faster Than Light Communications . If you would like to comment on this story or you wish to contact the editor of these sites please send us email.
Editor : Timothy W. Shire
Faster Than Light Communication
Box 1776, Tisdale, Saskatchewan, Canada, S0E 1T0
306 873 2004