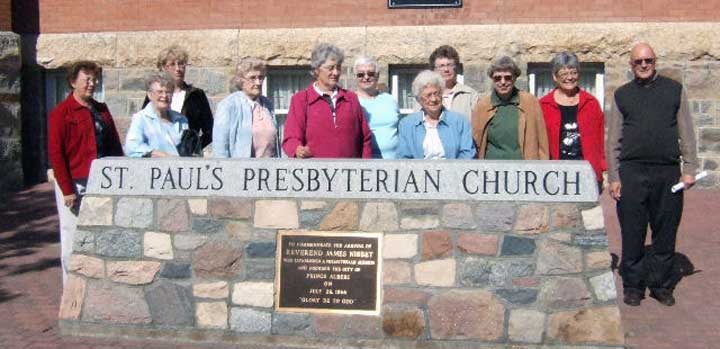 STS Members in front of St. Paul's Presbyterian Church in Prince Albert
Left to right - Eldeen Chupa, Dorothy Hobbs, Audrey Adelman, Eileen Godson, Margaret Mehler, Ellen Lloyd, Joan Deck, Lois Marsh, Valerie Furber, Maureen Donald, Bob Donnan
Superannuates tour Prince Albert Churches

Prince Albert , Thursday, September 18, 2008 by: Darlene McCullough
A group of twelve STS members and their guests travelled to Prince Albert on September 15 for lunch and a tour of three historical churches. The first stop was at Amy's on Second Avenue for lunch.

At 1:30 we drove downtown to St. Paul's Presbyterian Church for a historical presentation and church tour by Rev. Dr. Sandy Scott. Sandy briefly explained the history of the Scottish settlement in western Canada following the Battle of Culloden in 1746 and the events that lead to the settlement by Presbyterians from the Selkirk area of Manitoba to the banks of the North Saskatchewan River at what was to become Prince Albert. He described the hardships endured by the early settlers and talked about several of the interesting people who contributed to the early development of the Prince Albert area. We had a chance to see some pictures and hear about the construction of Prince Albert Presbyterian churches and how the present church came to be built. Sandy Scott then pointed out many of the features of the church and invited questions from the group.

Our second stop was Sacred Heart Cathedral. Sr. Renee Buliard gave a brief outline of the history of the Roman Catholic community in Prince Albert. She explained that the present cathedral, constructed in 1914, was the third Roman Catholic cathedral erected in PA. The historical outline was followed by an interesting tour of the church. She pointed out the history and religious significance of many of the objects, art work, and artifacts found in the church. Once again there was plenty of opportunity for STS members to ask questions during the tour and presentation.



Our last official stop of the afternoon was just up the street at St. Alban's Cathedral. Parishioner and local historian, Fred Payton, gave us a second very informative talk about the early settlement of Prince Albert and then went on to describe how the Anglican Diocese of Saskatchewan was established. As in the case of the other presentations, Fred showed us around the church and described the history and significance of the interesting art work, stained glass and church furnishings. Our chapter members and guests had the opportunity to add comments and ask questions during the tour and presentation.

It was an interesting afternoon that provided a unique three dimensional view of early settlement in the northern prairies and the part that religion played and continues to play in the lives of the people of Prince Albert and area.


---
Return to Ensign or Saskatchewan News
This page is a story posted on Ensign a daily web site offering a variety of material from scenic images, political commentary, information and news. Theis publications is the work of Faster Than Light Communications . If you would like to comment on this story or you wish to contact the editor of these sites please send us email.
Editor : Timothy W. Shire
Faster Than Light Communication
Box 1776, Tisdale, Saskatchewan, Canada, S0E 1T0
306 873 2004