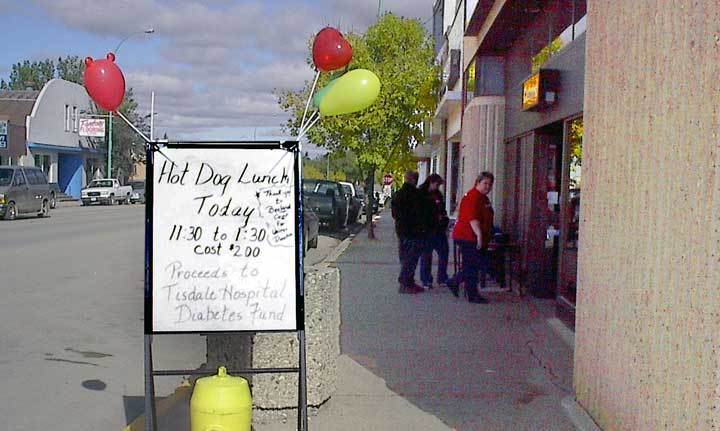 Scotia Bank pitches in with hot dog fund raiser
FTLComm - Tisdale - Friday, September 26, 2003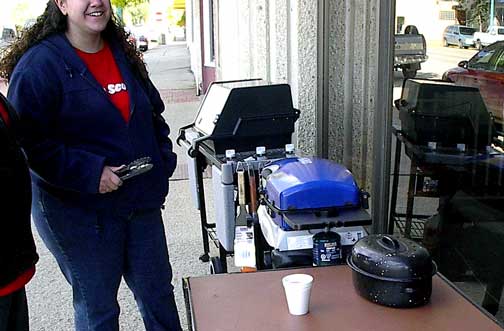 In the spring of this year Tisdale got solidly behind the Relay for Life fund raiser for Cancer. Most people in Tisdale are used to the community being able to put on a 100% effort for something, but that project exceeded everyone's highest expectations. Realising what can be done has been a boost to a number of community projects as the lesson of working together has been learned and success has been achieved.

Businesses and organisations throughout the community have turned their attention to raising money for the Tisdale Hospital's Diabetes Fund and today Scotia Bank and its staff held a noon hour hot dog bar-b-que.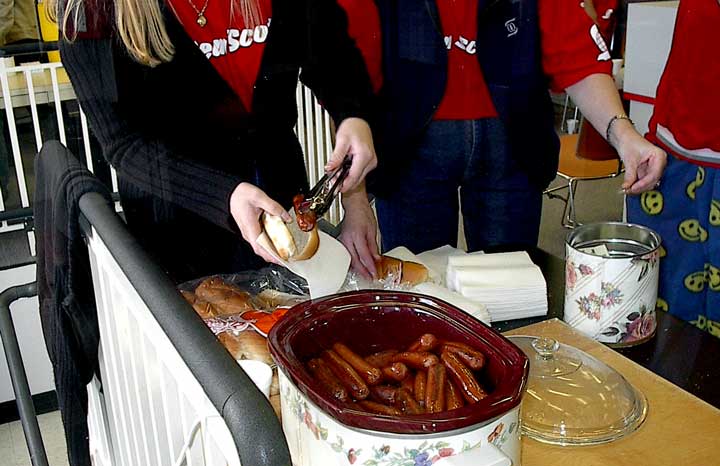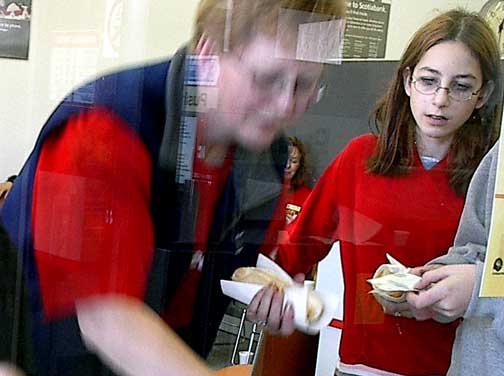 (My appologies to the good spirited staff of the Bank of Nova Scotia as this morning's pictures left their faces off of the frames, sorry about that.)

When I stopped by after picking up my mail this morning the place was busy and for three dollars I got two hot dogs and a great cup of coffee. Beeland Co-op had pitched in and provided the weiners for the bank project.

My hot dogs and coffee were a perfect lunch and the cheerful company and good spirits around the bank lent to the enjoyable atmosphere.

The bank had originally planned to hold the lunch in the back parking lot but the cool weather shifted things inside as it was a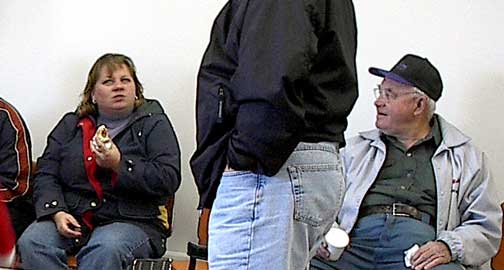 brisk 9ºC on the sidewalk outside the bank this morning with a chilly Northwest wind at almost 18 knots.

Projects like this one are being scheduled by other businesses as well as support for various raffles to provide this worthy project with the cash that it needs.

No one needs to be reminded of the sneaky nature of type II diabetes which has become one of the fastest rising illnesses in Saskatchewan. Type II or adult onset diabetes is a killer, as it gradually damages the various systems in the body and can definitely shorten a victim's lifespan. The odd thing about the disease is that it is quite different from childhood diabetes in which the pancreas just fails to produce the needed insulin to process sugar. In type II diabetes the whole body system seems to fail to be able to absorb sugar even though the pancreas continues to supply insulin for the body. The problem is cellular. But, the good news is that the disease is actually preventable. Doctors can now detect the tendancy toward the disease before it occurs and by altering diet and activity, a person who might have developed the disease, can take action and spare themselves from this condition. That's where the fund raising comes in, as it is ultra important to do the public education that will alert people, long before they too have diabetes, of its dangers and how to avoid it.

Many health experts believe that education and preventative measures could rapidly reverse the growing numbers of this disease in Saskatchewan's population. This would have an enormous benefit for all people as diabetes is really a costly burden on Saskatchewan health care. Victims of the ailment require a lot of medical attention and many, as they grow older, require dialysis and of course, modern health care is able to prolong life until the costs are extremely high. This means that preventing the rise in numbers of victims will have a direct and measurable result in the society at large.
---
Return to Ensign - Return to Saskatchewan News
This page is a story posted on Ensign and/or Saskatchewan News, both of which are daily web sites offering a variety of material from scenic images, political commentary, information and news. These publications are the work of Faster Than Light Communications . If you would like to comment on this story or you wish to contact the editor of these sites please send us email.
Editor : Timothy W. Shire
Faster Than Light Communication
Box 1776, Tisdale, Saskatchewan, Canada, S0E 1T0
306 873 2004