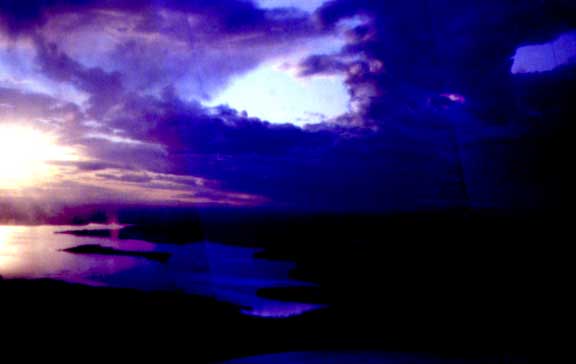 Lower Post
FTLComm - Lower Post, B.C. - Wednesday, December 5, 2001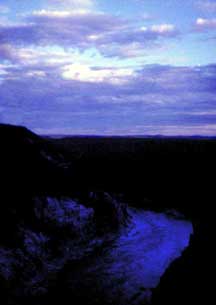 This pictures were taken on August 22, 1982 and sadly the negatives are
fading so that there is not a lot of emulsion left from which to glean a view able image. It was a surprise to discover the level of deterioration but they have been scanned so what is left is now preserved.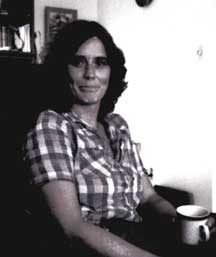 The image at the top of the page was taken at the end of the thirty minute hop that afternoon and shows the sky opening over Stewart Lake only five minutes North of the Watson Lake airport. There is a fishing camp on the island.

Jim and Karen Helms had joined Matthew and me on this short flight. Karen was the resource teacher at Johnson Elementary and Jim the shop teacher at the high school.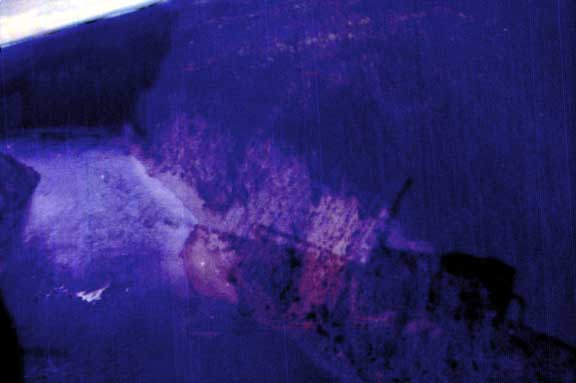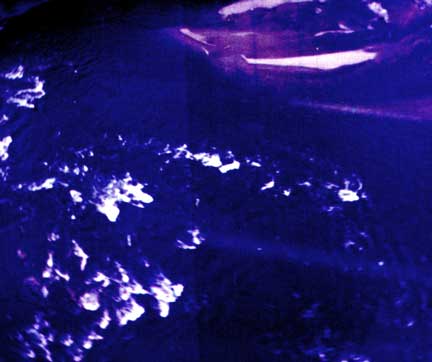 Immediately after departure from the runway I rolled into the Liard Valley and headed into the Canyon on the South side of town. This flight was by now routine as I would maintain 120mph in the 172 and drop into the gorge.

This canyon has straight walls and serious rapids beneath and in this picture we are rolled over looking straight down as we begin a sharp right turn.

Below we have come through the gorge, the nose is up and we are in a climbing right turn to set up for a three thousand foot look at the village of Lower Post.

Lower Post is just over the British Columbia border on the Alaskan highway South East of Watson Lake.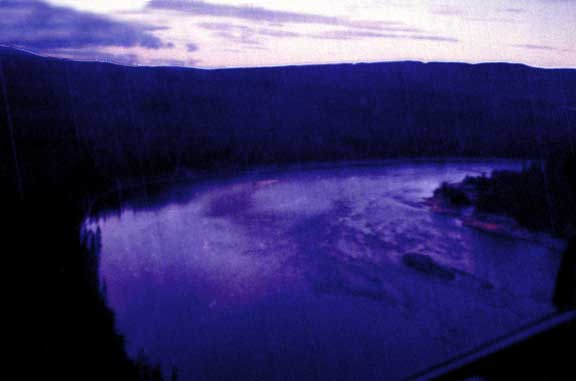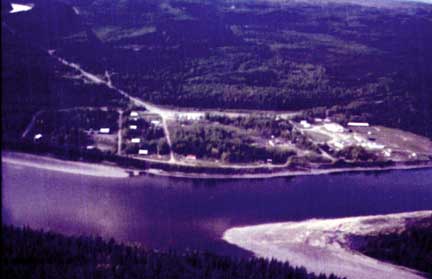 Though I always snickered at the name it was given that name and is strategically located because of early fur traders in the area. In this picture you can see the Dease River flowing into the Liard. The Dease flows more than a hundred miles across the Tintina trench from Dease Lake to Lower Post and was an ideal transportation route. Even today it is an outstanding canoe trip you can drive down the Stewart Cassiar highway put your canoe in the Dease and in just over a day you are at Lower Post.

The people at Lower Post are almost all non-status people since the Taltans of which they are descendants are situated in B.C.'s Northwest. From Iskut to Telegraph Creek, to Dease Lake, Good Hope Lake to Lower post. Driving through Dease Lake on the Stewart Cassiar I noticed a flashy looking pickup truck with a big sign on the front, "this is Taltan Country."

The Taltan are a proud and extremely aggressive culture. Just over a century ago they and their neighbours engaged in mortal battles over territory disputes. Despite their history they are perfectly suited to the land on which they live and as a group of people they are extraordinarily adaptable handling formal education easily and you have never seen hockey played with such zeal until you watch a game with the Lower Post Eagles.

I just got to tell you this story:

The men from Lower Post formed a hockey team to play in the League in Watson Lake and they would fill the arena with fans for every game. Lead by George Miller and Mickey Carlick they were both fun to watch and most often successful. Taltans are like many peoples along the coast very much a matriarchal society and women do not appreciate having to take a back seat to anything.

As the coach of the beginning hockey players in Tisdale I got a call from one of the women from Lower Post. Would I coach them so they to could learn the game. The lady explained that they were not happy with their husbands having all the fun and wanted to do, rather than watch.

Now teaching people, well children to skate is something I had done all my life but this was a new challenge. I had coached a girls hockey team in Saskatchewan but all of them were experienced skaters. When the first practice began I was facing thirty determined women from teen to women in their late thirties. Two or three could skate.

Now the dynamics of ice skating is simple lower the centre of gravity by bending your knees and lean ahead. Sounds good for a kid, but a women who is simply designed differently than a kid with a short torso and long legs that centre of gravity is towering above the ice. They would flip right onto the top of the helmets. Besides gales of laughter they were determined and within a couple of sessions all could stay on their skates. But I learned far more than they and cherish that experience to this day.