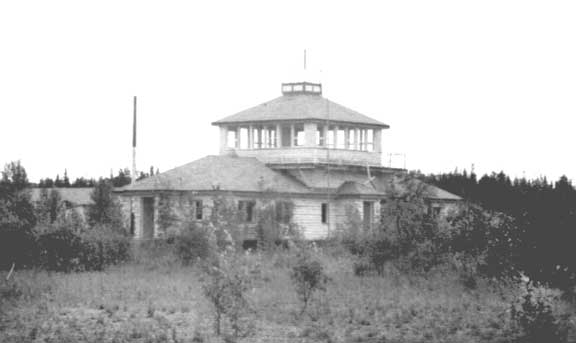 Smith River - Airport to Nowhere
FTLComm - Smith River (B.C.) - Tuesday, February 26, 2002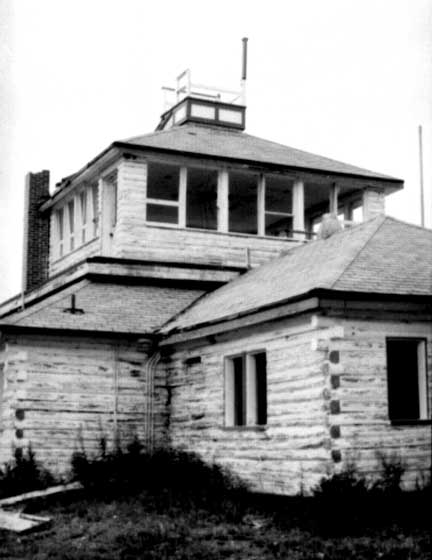 On an overcast day (July 18, 1982) we took off from Watson Lake airport and climbed out over the rough mountainous terrain East as we made a direct flight to the abandoned airport mid way between Watson Lake and Fort Nelson (check this story for location). ARS though a dream to fly (Cessna 172) was not a speed demon and it took us nearly fifty minutes to reach the Smith River valley.

The valley runs due North and South with the airport tucked nicely into the wide flat West of the River about eight miles North of the falls.

We circled the runway both high and low and shot pictures of the setting before we put down on the more that three thousand feet of the six thousand foot runway that by then was half overgrown with saplings.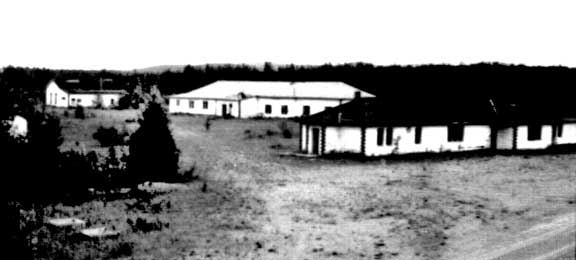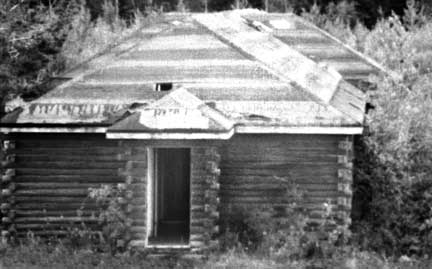 The tower was a work of craftsman's art made from hewn logs with offices on the main floor and a huge tower with slanted windows and a widows walk above. Tim II and Andrew climbed up to the top and clicked these pictures that show the serviceman's quarters, itinerant pilots barracks and support buildings.

Japan's entry into World War II was a nasty surprise for North Americans and the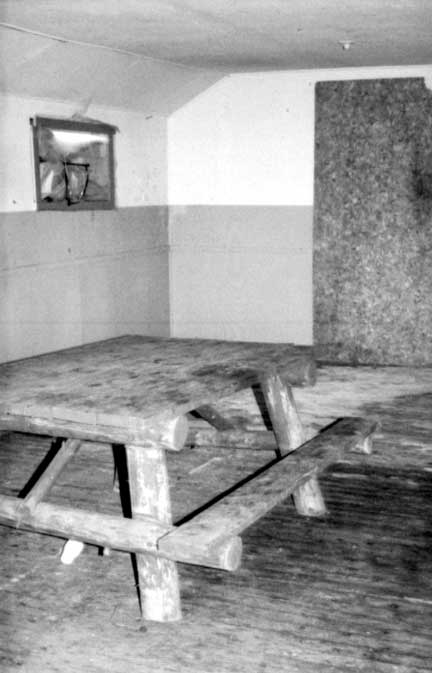 whole continent, especially the North West was defenseless. The Japanese had grabbed hold of one of the Aleutian islands and there was a mad dash to get some defensive positions in Alaska. Long before the road was built a series of airports were established to make a chain for military aircraft. Fort St. John, Fort Nelson, Smith River, Watson Lake, Teslin, Whitehorse, Asiac, Fairbanks.

A gasoline pipeline was built from Norman Wells to Watson Lake and Whitehorse to supply aviation fuel. These were desperate times with fake road ways cut into the wilderness to trick Japanese pilots into blind valleys.

With Europe in a life and death struggle Russia was in dire need of aircraft and this chain of airfields would see thousands of aircraft make their way into Russia for the fight with Hitler.

When the war ended the two bases that were back up airports, Smith River and Asiac, (West of Whitehorse) were maintained by the Canadian ministry of transport right up until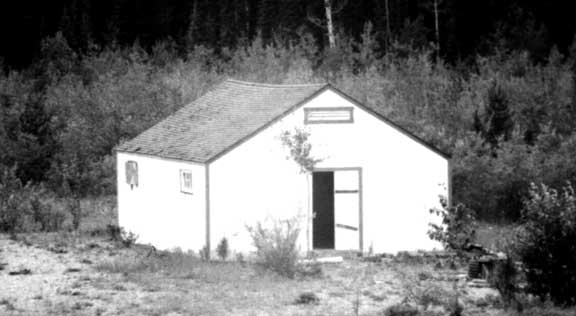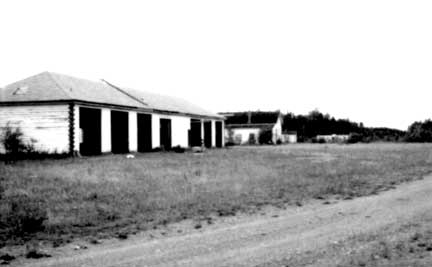 the early seventies. We had talked to people in Watson Lake who had once worked out at this airport before it was closed.

But in July of 1982 we were the only visitors. Occasionally survey and exploration pilots would use the runway to supply camps to the North and a few hunters must have wandered up from the Alaskan highway some sixteen Miles South. Alec Mercier said that a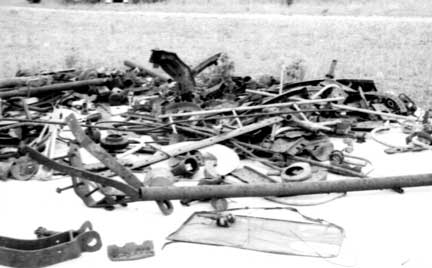 trappers cabin North and one South of the airfield were still used.

But these pictures are all that remains of this place for in the coming year the scourge of fire swept over the hills from the West and engulfed everything so that when we next came back to camp here there were no buildings standing.

The house below was the airport manager's house and appears to have been upgraded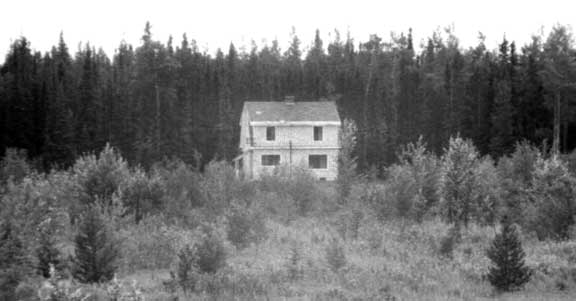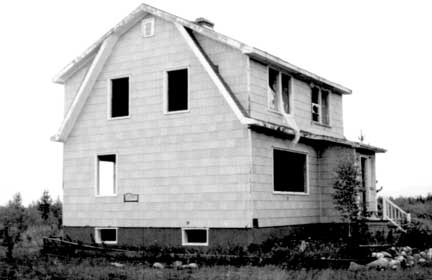 or build after the war with its 1950s style of construction. But it was the only individual house still standing in 1982 though there was evidence of the foundations of others between the garage and this lone house. It had been standing open to the weather for at least a decade.

It is always sad to see things falling apart and an abandoned house no matter where it is located is always a sad thing to behold.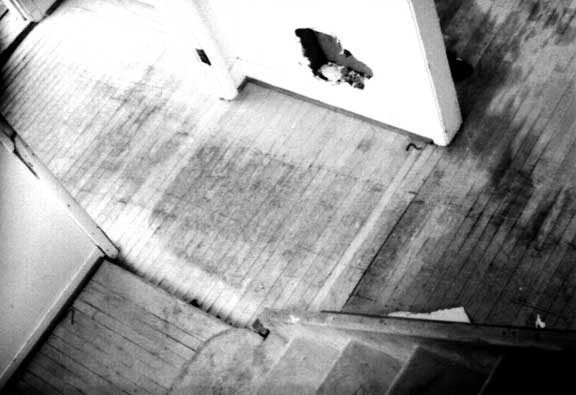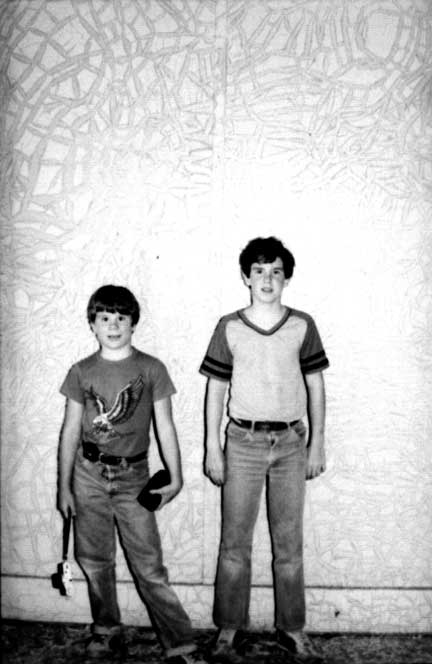 The wall really impressed us with the paint peeled and sticking out from the wall. Andrew and Tim II posed in front of this mystery. I notice that Andrew has the telephoto lens in one hand and an Olympus Trip in the other. This tells me that there must be more pictures of this site in our files and perhaps one day I will find them and provide you with another installment of this adventure.

The three of us took every opportunity to see and experience what we could with the 172 and later with the 182. From Cassiar to Tungsten and the following March we slipped down the Taku River valley to Juneau then over to Sitka. In 1985 we jumped over all of BC stopping in Bella Bella, Smithers, Williams Lake, Pemberton and Vancouver's Boundary Bay.

But of all those adventures, even the emergency bathroom stop at Skagway, were minor events to the two times we went out to and landed at this mysterious runway that seemed to have echoes of fighters and bombers from the dark days of World War II.