Come Ride With Me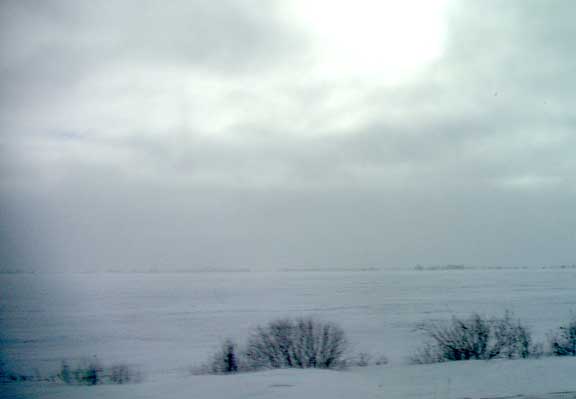 FTLComm - Tisdale - February 17, 2001
It actually happened to me a lot as a kid growing up in a tiny Saskatchewan hamlet, an uncle, local merchant, cattle buyer or family friend, would have to go somewhere and would ask me if I wanted to come along for the ride. As a kid I was used to dealing with adults and was one of those kids that would be described as the kind "that would talk the hind leg off a dog." So I would go along, give the driver some company and get in on the adventure myself. My folks always knew the people well and thought it was a good experience for me. Some times on trips that would take the day mom would pack me a lunch, in the 50s going to a cafe was not usually an option especially for a kid on an adventure.
I think my most exciting ride alongs were with a Jewish cattle buyer from Winnipeg, my uncle and I would go from farm to farm with him and they would discuss the farmer's farming practices, the quality of his herd and the price he most likely would be willing to accept. It was like peering into a forbidden world, another level of commerce and though it was interesting it was not something I considered as a thing for me to be involved. There was a need to have an eye for cattle but it was even more important to understand the financial setting. In those years the small farmers (quarter and half section operations) were on their last legs and their need for cash flow meant that the cattle buyer was able to buy animals for less than market value.
But its time for you to ride along with me. These pictures take us from Tisdale to Prince Albert .
Friday afternoon, there was a really steady wind from the North West moving around the small amount of fresh snow in the Tisdale area and as you can see in the picture at the top of the page, taken just West of Star City it was a very white world.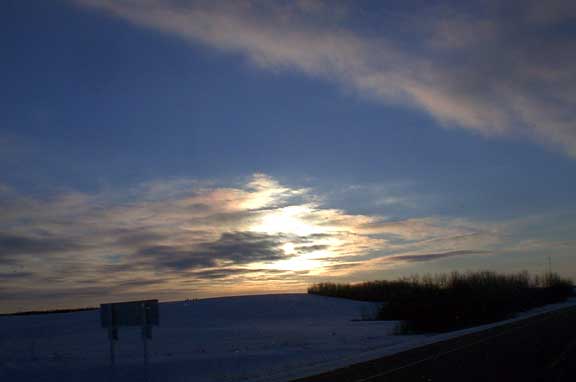 I had stopped in Melfort for some time during the afternoon and it was around 5:30 when I climbed the rise just East of Birch Hills. The sky was clearing and the temperature much lower. From the crest of the hill the late afternoon shadows stretched across the countryside as the pciture below was taken looking North.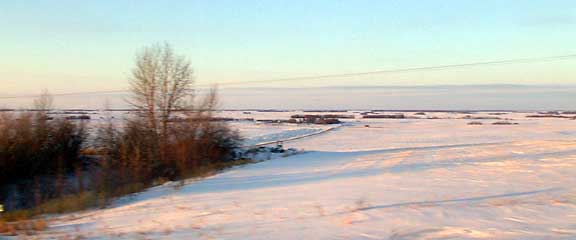 Every trip to Prince Albert means that you will cross one of the Saskatchewan Rivers. The scene below is just past the West end of the bridge at the Muskoday reserve looking up the Saskatchewan River as we look almost due North.
Close to Prince Albert the sun has moved down the sky and caught this farm yard on the top of a small knoll about eight minutes South of the city.