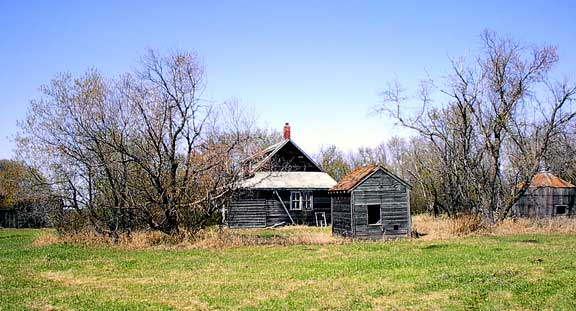 Country Roads
(part II)
FTLComm - Tisdale - Tuesday, May 13, 2003
In the first half of this two part story you saw the countryside about eight miles South on the twelve miles I travelled and viewed one of the many abandoned farms on this road with a QuickTime VR from the road.

In today's story we begin across the road from Irving's (below across the field) at a farm yard that some years ago was someone's home and someone's life. The complete panorama of this scene is at the bottom of the page.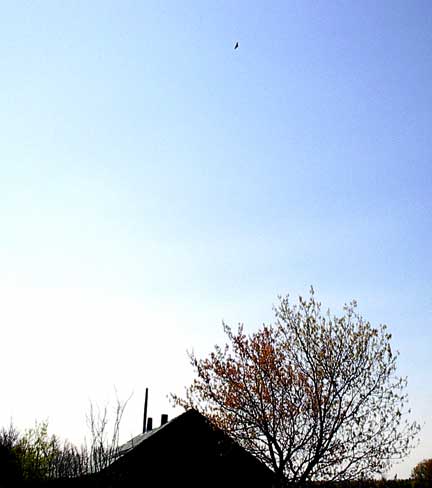 The empty sky had a sole hawk lazily riding a thermal over the grass below waiting for a plump ground squirrel to stick his head out of a burrow. But lunch appeared to be delayed.

For decades Saskatchewan farms have been growing steadily larger and as they have, the population of the non-urban areas have steadily grown smaller and smaller. All across the Great Central Plains of North America this process has been repeated leaving behind an almost empty land. The roads, the former homes, the yards and gardens and with them the under used villages, their infrastructure and all that once was a whole civilisation.

What this actually is a form of migration, a form of reverse in the development of where people made their lives. The habitat that once filled the lives of about a million people in Saskatchewan alone is now home to just a fraction of those once there. All this relocation has seen people jamming themselves into urban areas, in suburban communities, towns and many have just left to live on the coast.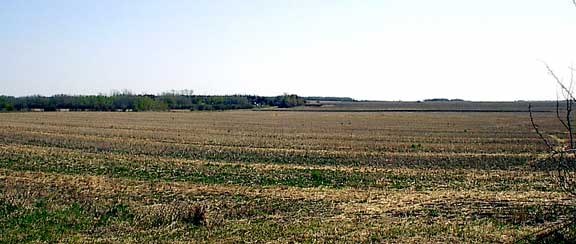 It disturbs me to realise the extent of this depopulation and it seems very much like there has been a very big mistake made. Albeit a financially based and largely external event it is a devolving process and in the great scheme of things perhaps unique. People came to this part of the world as the ice age receded seeking a life on this amazing land. Since then people have steadily migrated here bringing with them their cultures, their ingenuity and their spirit of adventure. But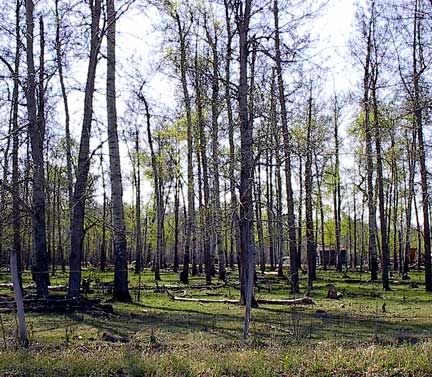 through those eons of time (15,000 years) the land itself has shaped them and each successive culture has been affected and advanced by the land. The Cree and Anicinabe were the last to move out here well ahead of the Europeans but they were changed by the land and its sky just as the Europeans who came here as little as eighty years ago will never be the same as they too became prairie people.

But the economic migration from this land is truly a mistake. The place is fully developed with roads and services as it now becomes merely property of corporations. As you look at these pictures you must like I, realise that there should be people living here, raising their families, savouring the remarkable changes in the weather that accompany the passage of each year and the harmony that rolls across the fields, meadows and bushes.

A mile south a small flock of sheep were enjoying this stand of poplar. Mixed farms are a rarity though once the standard. This area has several farms that have only recently added cattle to their farms but the majority are trying to use mechanisation and size to handle the reduced profitability as the margin for profit has consistently been reduced forcing the process.

The tractor with its air seeder, grain tank and fertiliser tank make the one pass over this field of stubble planting this year's crop with this one pass. Zero tillage processing will produce a crop this year because it conserves moisture and only the application of chemicals over the growing season will occur before this crop is harvested.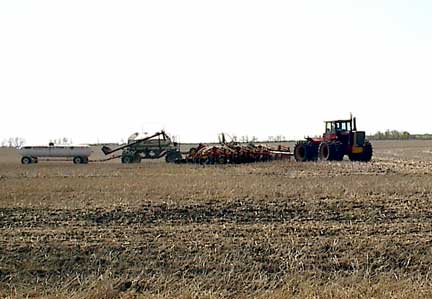 It seems to me that we should be looking long and hard at this process and consider alternatives to put people on these places. Perhaps they will not farm as the corporations will live on but there should be a way of compatibility with people who can live in a civilised developed land almost entirely devoid of people.

The QuickTime virtual reality panorama below allows you to look over the scene by putting you cursor on the image and moving around. If the image does not appear your computer is not equipped with QuickTime and you should download this free software enhancement.
---
Return to Ensign - Return to Saskatchewan News
This page is a story posted on Ensign and/or Saskatchewan News, both of which are daily web sites offering a variety of material from scenic images, political commentary, information and news. These publications are the work of Faster Than Light Communications . If you would like to comment on this story or you wish to contact the editor of these sites please send us email.
Editor : Timothy W. Shire
Faster Than Light Communication
Box 1776, Tisdale, Saskatchewan, Canada, S0E 1T0
306 873 2004