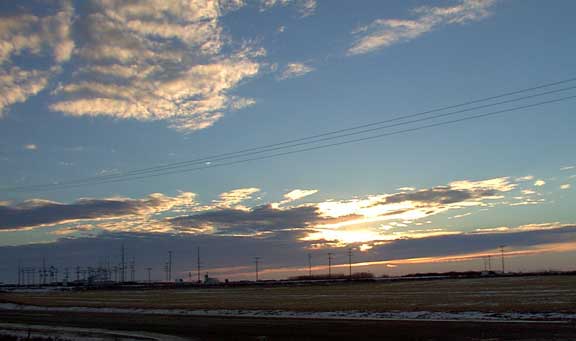 A November Chronicle
FTLComm - Tisdale - Monday, November 18, 2002
Just after four in the late afternoon of Sunday, November 17, my partner and I began our journey and though it happens every year and every year it surprises us once again, as we see the sun is setting at such an early time. This first picture was taken on Heritage Rd in Tisdale and the one below just East of Valparaiso.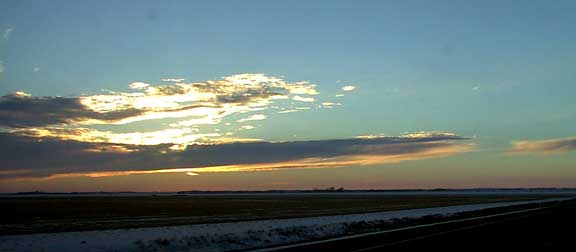 One way to describe this collection of images is that they are a sort of "unfocused reality". Clearly, the vast majority of all sequences of events for us all are pretty much unfocused, it is only later, or because of some external event, that things get lumped into an imposed pattern, but the reality is, that almost all activities we undertake, a sequence of things are often completely and totally unrelated to one another.

This set of pictures share that apparent lack of cohesive theme, but share one vital context, they were all taken within a time span of three hours and thirty minutes here in Saskatchewan.

Just West of Melfort the sky was lit up in a gaseous volcano of light and apparent fury. The cold air mass that has been finding itself at home in this part of Saskatchewan for a month or more has slipped backward toward the North and warm damp air has rampaged its way North over running the cold and giving us this spectacular sky with temperatures right around the freezing mark.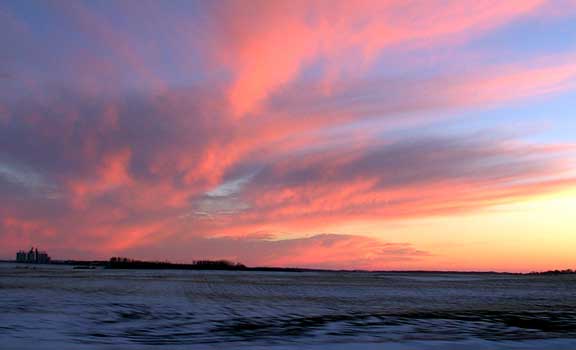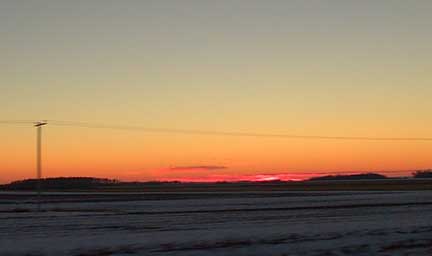 Only a moment later the dying glow of the Sunday sun slipped below the Southwestern horizon, the vibration of the wind and movement of the car reduced the clarity of the image preserving only the intense colour of the edge of the earth far far away.

As we moved along a conversation ensued and each time I would turn my head toward the passenger I would get a glimpse of some sharp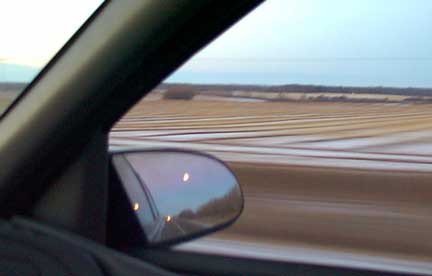 light out of the corner of
my eye, then as the angle changed it became clear, though blurred in the mirror of the passenger's side, we were being followed by an identified celestial object. Two hundred thousand miles away the moon was reflecting the sun upon us as it mounted into what was becoming the evening sky.

But people are a universe of their own they buzz around like bees socialising, rearing and nourishing themselves.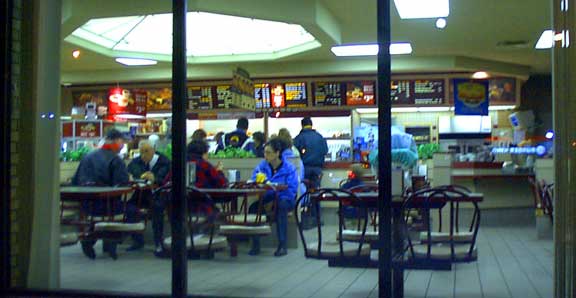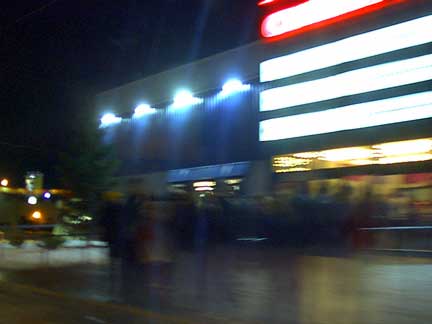 This, through the windshield image, of a people lined up more than an hour before the show was to begin, of a fictional character created by a lonesome and giftedly creative English woman, the second film version of Harry Potter is now being viewed. Pity!

Let us hope this second one is better than the first, which required that you have a guide who had read the book to interpret the story as it was simply to confusing to be considered a film, but rather just an adaptation of a printed work.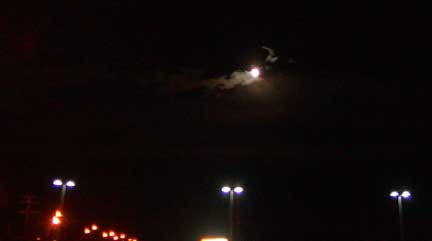 The image of the moon now well above the horizon on the South side of Prince Albert peeking through the trailing fringe of high cloud seemed to echo the spirit of the fictional Harry Potter.

An hour and a half later I am in Tisdale and this retail outlet has proclaimed that it has something called the PC Insiders now in the store. I don't want to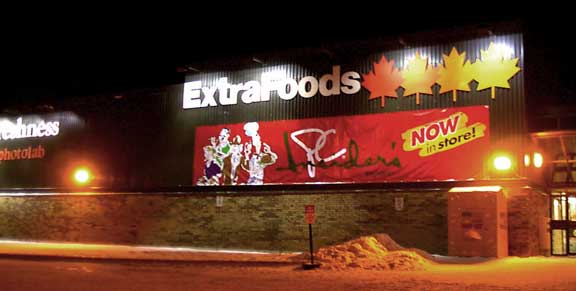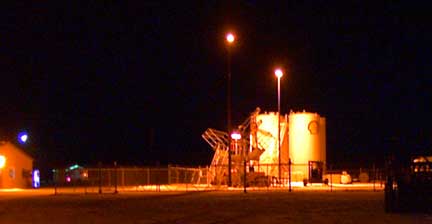 know what that might be
it will ruin the speculation of what it might be, when I eventually find out just what the Insider's are, or is. For now I can make them donut holes, fish guts, bread without crusts, scandalous stories about personal computers, the secret life of sausage, cosmetics in the wrong bottles, may I never find out.

South of Tisdale the Shell bulk plant is awash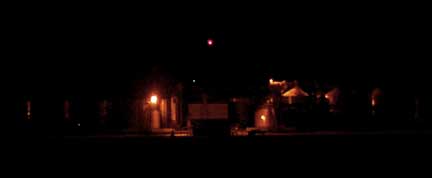 in light and further South
Louis Dreyfus is a mysterious reflection of lights with a star far off light years away.

All in all nothing is connected yet everything is in one way or another, all a part of seamless reality, the fabric of time and light.

---
Return to Ensign - Return to Saskatchewan News
This page is a story posted on Ensign and/or Saskatchewan News, both of which are daily web sites offering a variety of material from scenic images, political commentary, information and news. These publications are the work of Faster Than Light Communications . If you would like to comment on this story or you wish to contact the editor of these sites please send us email.
Editor : Timothy W. Shire
Faster Than Light Communication
Box 1776, Tisdale, Saskatchewan, Canada, S0E 1T0
306 873 2004